The Apple iPad Air is a major redesign of Apple's 9.7″ tablet and is unquestionably more advanced than all their previous models. But did it cost Apple more to make? AllThingsD and researchers from IHS report that the Air is cheaper than the iPad 3 (the last big iPad they have examined), despite the cost of the display going up.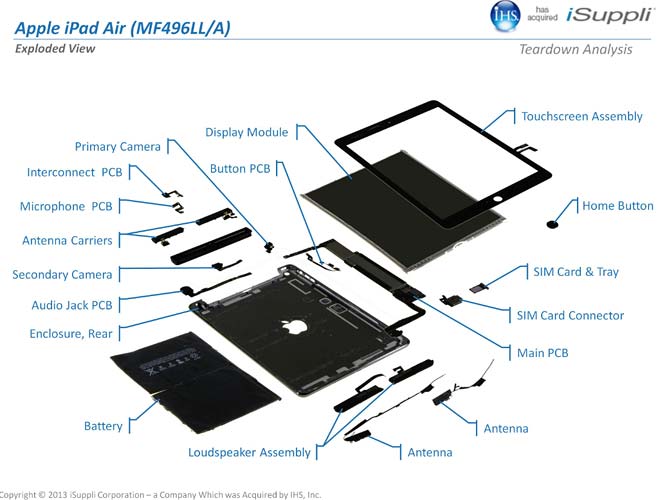 It's really the screen that is the biggest change to the internals. A new design has allowed Apple to use just one layer of glass instead of two, which has reduced the thickness from 2.23mm to 1.8mm.
Another change is that the backlight consists of only 36 LEDs instead of 84 LEDs like on the iPad 3. This means the iPad Air screen uses less energy, but the light is still evenly spread out thanks to an optical film.
Overall, Apple spends $274 to build the cheapest iPad Air (16GB, Wi-Fi only) and $361 for the top-spec'd model (128GB, Wi-Fi + Cellular). Retail prices for those models are $500 and $930 respectively.
Of the components, the new screen costs $133, which is more expensive than the old screen. The new and much more powerful chipset, the Apple A7, has gotten cheaper – Samsung makes those for $18 a pop, compared to $23 for the old Apple A5 a year and a half ago.
A whole gaggle of companies have contributed various components to the iPad Air, check out AllThingsD's post for more on who supplies Apple with RAM, modem and other bits.