The Apple iPad spent almost two years in Rumorland, prior to its announcement, but once the floodgates have been opened there's no time to wait. The Apple iPad 2 (or whatever they decide to call it) is all but certain to come in a few weeks' time and rumors about its specifications are as intense as ever.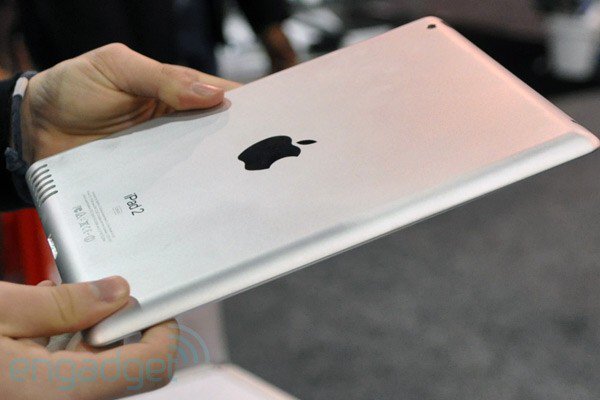 First we have this leaked image from the iBooks 1.2 source files suggesting that the iPad2 will indeed pack an ultra high-res display (Retina if you will). Having a resolution of 1536 x 800 pixels, the png file used for the background of the new iBooks app has twice the resolution of the 768 x 400 pixels image used by the current crop of iPads.
Judging by that and the Apple approach with the iPhone 4 (which quadrupled its resolution to make it easier for developers to scale their apps), it's not inconceivable that the iPad 2 screen will have four times the screen resolution at 2048 x 1536 pixels. With a diagonal of 9.7 inches that adds up to a display density of 264 dpi, which while lower than the iPhone 4's (300dpi) will feel equally good as a larger screen suggests greater viewing distance. Admit it – you would love to see that "printed image" look on a tablet, won't you? Plus it would allow to appreciate 1080p Full HD clips in their full glory.
Next comes the chipset that will be powering the new Apple iPad. AppleInsider claims that it will be called A5 and will feature the 1080p-capable dual-core PowerVR SGX543 graphics chip, what should provide a number of performance improvements to help with the increased resolution. By the way, the not-yet-announced PSP2 is rumored to make use of the same graphics chip as well.
There's no saying of what the iPad 2 CPU will be like, but seeing how trends go a dual-core processor is highly probable. Either that or Apple risk the iPad becoming outdated tablet come the middle of the year with all those Tegra 2 competitors lurking from the deep.
Finally, we have photos of an iPad2 case, which confirm yet again that there will be camera on the back of the device and an SD card slot. An opening at the top makes a mini DisplayPort a possibility too (or even a USB slot, but that's a wild guess). The Display port would certainly make sense – the A4 was already capable of doing 1080p videos, so the A5-powered iPad2 will certainly make for a nice home media center.