Last week people started reporting a strange problem with the Apple App Store program installed on their iPhone and iPod touches. This made it nearly unusable because it would hide the buttons to download the apps, along with the screenshot and other app information.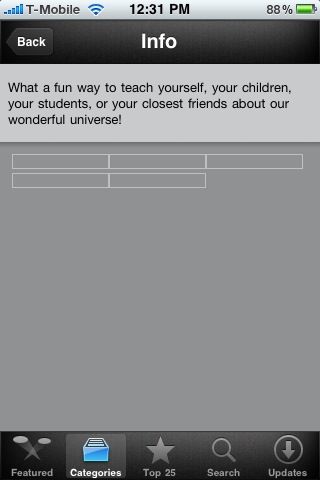 The interesting thing about this issue though was that only those running iOS 3.1.3 were reporting it and as you may know that was the latest update that the first generation iPhone and iPod touch is capable of running. However, it seems now though that the issue has been fixed.
Engadget is reporting that things are now back to normal, with the App Store program working just fine. Whether it was a temporary glitch or something Apple remotely fixed is not yet known. From the user-end though you don't have to do anything as it sorts itself out on its own.
The screenshot above shows a slightly different texture to the top and bottom bar, which is unlike the glossy finish you usually see. Perhaps Apple was in the process of revamping the interface of the App Store when this happened, although it still does not explain why it only affected devices running iOS 3.1.3.