Apple just announced the next generation Macbook Pro. The notebook boasts a 15.4″ Retina Display and cutting edge hardware, tucked in a body, which is 1.8cm thin (0.71 inches) and weighs only 2kg (4.46 pounds).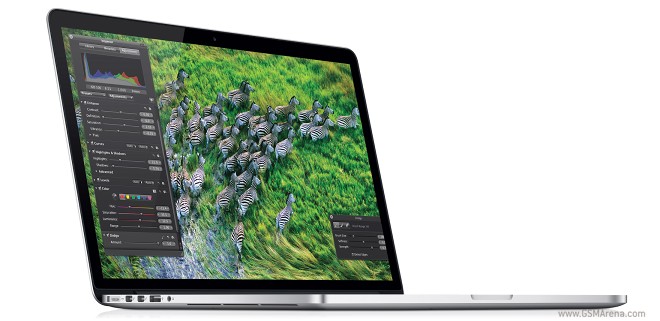 Naturally, the Retina Display of the newcomer is the biggest attention grabber. The screen sports the mesmerizing resolution of 2880 x 1800 pixels, which adds up to a pixel density of 220ppi, and a total of 5,184,000 pixels. To put it in simple words, the latest Macbook Pro's display is the world's highest-resolution notebook display, and offers you roughly 3 million pixels more than your ordinary HD TV.
The rest of the specs include quad-core i7 Ivy Bridge CPUs with clock speed of up to 2.7GHz and up to 16GB of RAM. The GPU is Nvidia's GT 650M. A 768GB SSD will be available to order as well. There's an SD card slot, HDMI (yup!), USB 3.0, MagSafe 2 (new gen charger connector), two Thunderbolt ports, and USB 3.0 ports. There are two speakers and two microphones built-in.
The trackpad of the new Macbook Pro is made of glass, and its keyboard is, of course, backlit. Bluetooth 4.0 and a FaceTime HD-capable front-facing camera are also on the specs sheet.
Watch the official Apple promo video below:
The latest Macbook Pro will begin shipping today with a starting price of $2199. This kind of cash will get you a version with 256GB SSD, 2.3GHz quad-core chip, and 8GB of RAM. A fully tricked out version of the notebook goes for north of the $3500.