The INFOBAR CO1 is part of a 5 smartphones lineup announced yesterday by Japanese carrier KDDI au.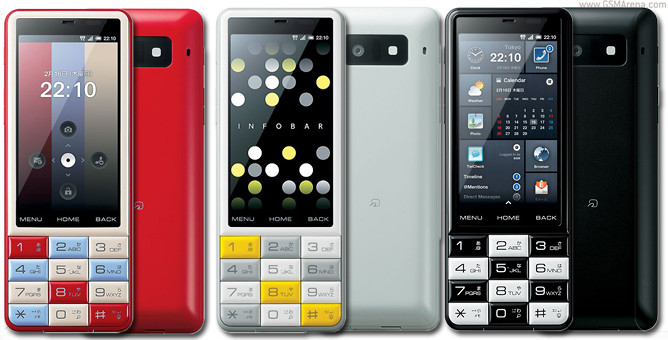 It is the most interesting in the lineup and offers a heavily overhauled UI based on Android 2.3 Gingerbread (iida UI), colorful looks and hardware numpad to go with its touchscreen display.
Looking at the features the INFOBAR CO1 offers a 3.2″ display of FWVGA (854 x 480)resolution and a pixel density of around 306 ppi, an 8 MP camera and more.
To clarify on the pixels per inch number of the INFOBAR CO1 it is slightly above 300, which coincidentally is the mark an average human retina can distinguish. Meaning that UI elements should look smoother and pixels would be impossible to spot at an arm's length.
For a better look at the iida UI check out the video below, Japanese narrated.
The INFOBAR CO1 weighs only 106 g and is 12.3 mm thick. It features an e-wallet function by carrier KDDI au, CDMA/GSM/GPRS compatibility and digital TV tuner.
The INFOBAR CO1 will begin retailing next month courtesy of KDDI au.