I guess I'm not the only one who has a relatively new HDTV that doesn't have fancy "Smart TV" or "Connected TV" functionality and thinks the price of the upgrade isn't worth it. The Samsung inTouch is a curious Android-powered device that solves this problem by adding such functionality (Skype, YouTube, etc.) to any TV with an HDMI port.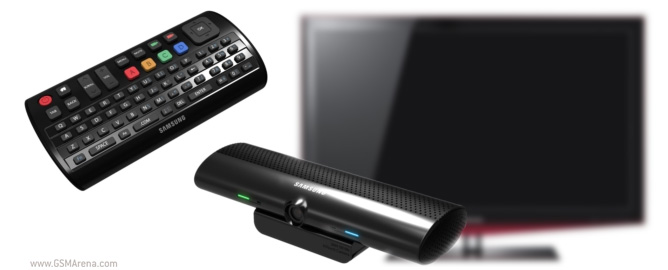 It looks like a web cam and indeed features a 3MP camera that can be used for snapping photos or placing 720p video calls on Skype (the inTouch has its own microphone for that).
With the inTouch you can browse the web and watch YouTube videos and also read the news and check the weather with the familiar Google app for Android. All you need is a working Wi-Fi network to provide the internet connection.
A USB port lets you plug in external storage to view photos, but the press release is mum on the topic of watching videos with the Samsung inTouch (new HDTVs can handle DivX/XviD with ease).
A remote with a full QWERTY keyboard is used to control the inTouch at a distance and for easy text input.
The biggest question about the Samsung inTouch is "does it have access to the Android Market?" The press release makes no mention of it and the weird form factor means that the most likely answer is no – at least until XDA-Developers and the like get their hands on it.
The Samsung inTouch will be available in March this year for $199.
PS. We've already seen a device with similar intentions (though sans the camera) – the oddly named Cotton Candy.