The latest data from Opera's Mediaworks ad tracking platform shows that Android has for the first time surpassed iOS in number of mobile ad impressions.

Apple's iPhones and iPads still generate more ad revenue, however, receiving 52% of ad revenue, despite accounting for just 38.2% of all impressions.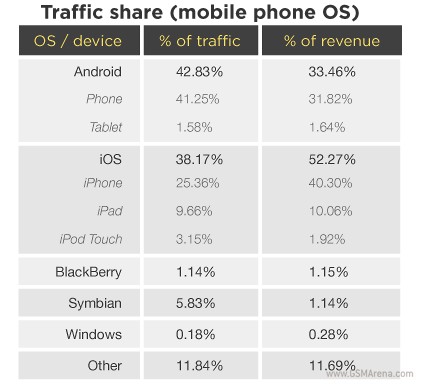 Android has been gradually climbing in both ad revenue and traffic over the past several years, largely at the expense of BlackBerry and Symbian. Google's OS rose more than six points compared to this time last year, and now controls 33.5% of global ad revenue. This is in large part thanks to the sheer number of devices running Android, which now account for almost 80% of all smartphones by the latest IDC figures.

Samsung continues to solidify its position as the top vendor of of Android devices, accounting for some 60% of all mobile ad impressions in the first quarter of this year. Mobile ads are driven primarily by the US market, which accounts for over 50% of all ad traffic. The Asia-Pacific region comes in second with almost 23% thanks to emerging markets like China, while Europe accounts for just 13%.