Android's Google Play store has been slowly gaining ground to iOS, which has historically been the leader amongst all mobile app marketplaces in app revenue.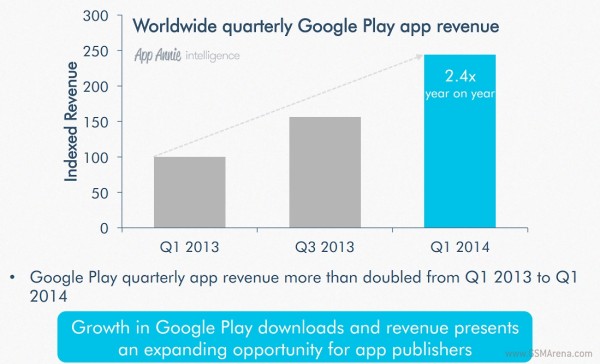 Quarterly app revenue has seen the most drastic improvement, with a 2.4x growth for the first quarter of this year compared to Q1 2013.
App Annie, the firm that conducted the semi-independant report (as in not funded by Google, but App Annie confirms it uses Google products), reports that app downloads have also grown to 150 million, up from 100 million in Q1 2013.
The growth in app revenue is a welcome sign to Android developers, since that is area that Android has traditionally lagged in compared to iOS. The latest rise can be in large part attributed to games, which account for 90% of overall Google Play app revenue, up 80% from a year ago and derived mostly from so-called "freemium" games, i.e. games that are free to play but can be enhanced through in-app purchases. Freemium games accounted for a whopping 98% of total Google Play revenue in May 2014.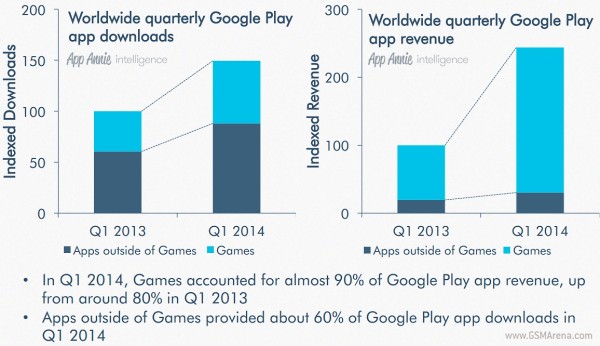 Regional marketplaces also saw some changes. Japan remains the top market in app revenue, after reflecting the same healthy 2.4x growth in its revenue, while the US saw an even higher jump of 2.6x, putting it in second ahead of South Korea, despite the latter's own 1.9x growth.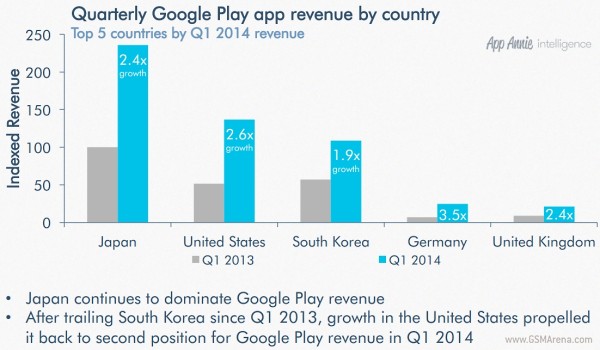 We should get more info on exact figures during Google's I/O event tomorrow, where the company traditionally takes some time to divulge the total number of apps in the Google Play library, as well as other important figures. Be sure to check back with us then for live coverage!