Google has finally launched the web interface to their promised new service for Android users called Android Device Manager. The unimaginatively named service works similar to Apple's Find My iPhone, Samsung's Find My Mobile or HTC's HTCSense.com and helps you track down your (lost) Android device.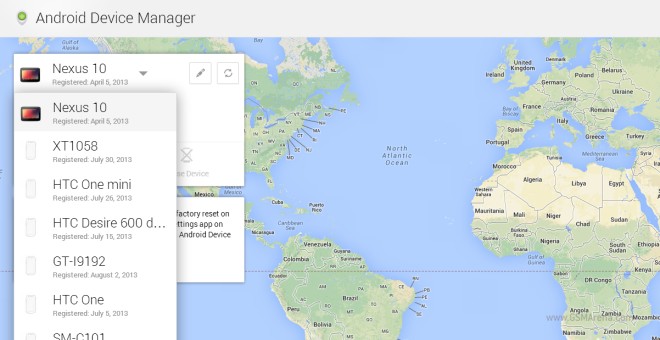 To use the service you will have to head over to the Android Device Manager website. From there you can select your device from the list of recent devices you used with your account and the site will then try to locate your device (you will see the GPS activate on your device briefly as it reports its location). Once the site gets a lock on the device it will show it on the map in the background with the proper address on the side.
Once it is located, you can remotely make the phone ring, which is handy if it is nearby and you've simply misplaced it, say, somewhere around your house. The phone will ring at full volume for five minutes until you press the power button on it. If you can't locate it and you are afraid someone will access the data on the device, you can also remotely erase it. You do need to pre-authorize this one on your device in advance from the Google Settings app (the one with the green icon) so make sure you do it now as without it being enabled, your device can't be erased remotely.
Compared to Apple's service, Google's service lacks one useful feature. Apple lets you remotely lock your device as well and display a custom message along with a phone number that someone can call in case they've found your device and are willing to return it. This can come in handy and is a better option than remotely erasing your device, which can be a bit too extreme at times. Hopefully, Google will add a similar option to Android Device Manager as well.
One little caveat though is that the service is available only for devices, running Android 2.2 and above. For devices running 4.1 and higher, location access must also be enabled by going to Google Settings > Location > Access location.
Google has also promised an app to find and manage your other devices, which will be coming shortly.