This one is for AMD fans – Radeon-branded, AMD-manufactured DDR3 RAM modules. They will come in three flavors, but all share the same capacity – 2GB. The differences are in clock speed and timings.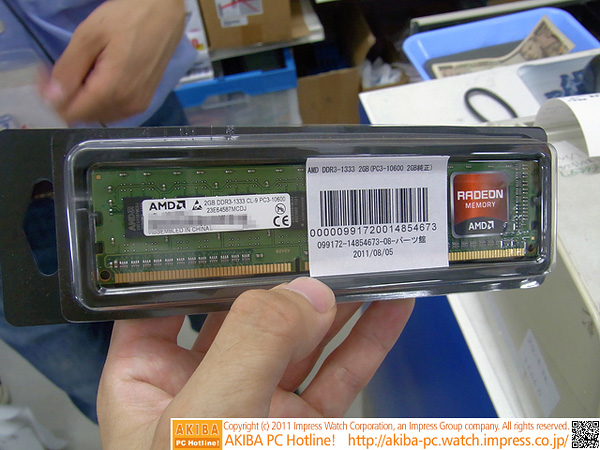 The three flavors are Entertainment, ULTRA PRO Gaming and Enterprise. The Entertainment line is clocked at 1333MHz (9-9-9 timings), while the ULTRA PRO Gaming goes at 1600MHz (11-11-11). The numbers for server-oriented Enterprise series are still TBD. All three come in standard DIMM format for desktops.
Pricing for the three series isn't officially announced, but Canadian web shot NCIX already has the AMD Radeon Entertainment DDR3 modules for CAD$10 (or 10 US dollars, €7) after a CAD$10 rebate (rebates are valid until tomorrow, 10 August).
Even without the rebate, that's quite a good price for 2GB/1333MHz RAM. There's no info on when the other two Radeon memory flavors will show up in shops or how much they will cost.
Besides Canada, the AMD Radeon RAM was spotted in Japan, too (where the price was $20 for the Entertainment). Drop a line in the comments if you find it somewhere else, especially if it's the ULTRA PRO Gaming or Enterprise editions.
Source • Image source (in Japanese)