If you're a PC gamer, then you're familiar with AMD's line of processors. The company introduced the first dual-core chipset back in 2008 and has always been at the forefront of the CPU advancement game with quad-core and octa-core processors. Now AMD has upped the ante with Kaveri, a processor which offers '12 compute cores.'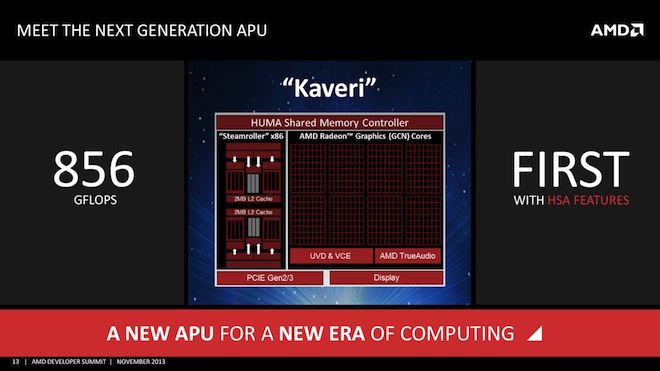 The chipset actually offers four CPU and 8 GPU cores which, according to AMD, provide for unrivaled gaming experiences on PCs. GPU cores were previously thought to be used primarily for 3D rendering, but they can also be used for other computing tasks as well.
So what does AMD claim the Kaveri can do? The chip manufacturer promises that it can play the current crop of PC games at 30fps without the need of a dedicated graphics card. Also, Kaveri costs $173 – significantly cheaper than Intel's Haswell Core i5, which is currently priced at $242.
There were some tests run on the Kaveri chips on a variety of titles and it seems that, for the most part, AMD wasn't telling tall tales.
Bioshock Infinite was run on low detail settings on at 1080p, and it did indeed keep a steady 30fps. AMD claims that more graphically intensive titles, like Battlefield 4 (which is coming with Kaveri chips) will also run at 30fps. Keep in mind however, that you'll need to turn low detail settings on.
Two other features offered by AMD's Kaveri are Mantle and TrueAudio. Mantle is a programming tool which supposedly offers higher performance even at reduced power settings. Battlefield 4 is optimized to work with Mantle, so it's probably why AMD is making a big fuss about their processor performing well with the title (it also happens to be an insanely popular game).
TrueAudio allows for the total number of voices and sounds to be heard at the same time in a game. It also assists in breaking down sound location data with regards to distance and direction, giving gamers a more involved audio experience.
Early impressions of the chip are positive and, if paired with a graphics card, Kaveri should be a PC gamer's delight, especially for the price.