Amazon didn't forget the Kindle Fire tablets, either. The old Kindle Fire gets a hardware upgrade – the processor has been updated to run at 1.2GHz, the RAM has been doubled to 1GB and the battery life has been improved. With the new parts the Kindle Fire is now 40% faster. It costs $159 and will hit the shelves on September 14.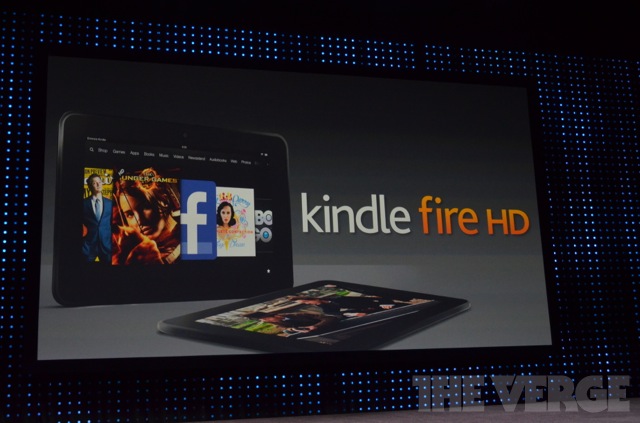 Amazon also announced the new Kindle Fire HD. It's a powerful tablet with a 7.0 or 8.9-inch IPS display options.
The 7.0-inch model runs on a 1.2GHz dual-core TI OMAP4460 processor whereas the 8.9-inch model runs on the 1.5GHz dual-core OMAP4470 processor. Both models come in 16GB and 32GB storage capacities.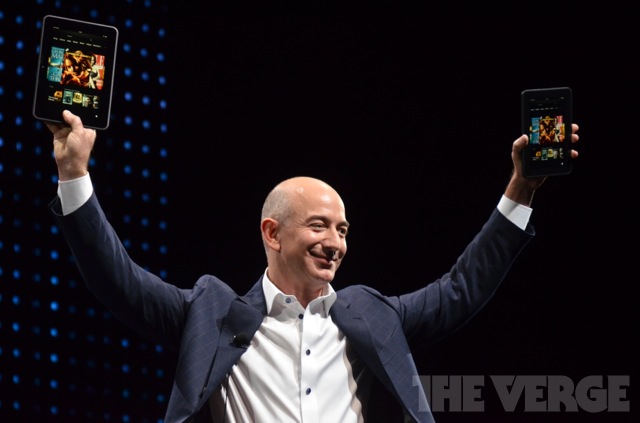 The 7.0 and 8.9 versions of the Kindle Fire HD
The 7.0-inch model has a resolution of 1,280 x 800 whereas the 8.9-inch model has a resolution of 1,920 x 1200, which gives it an amazing 254 ppi pixel density, just short of the 264 ppi on the new iPad's Retina display. The display on the Kindle Fire HD also offers 25% less glare and full spectrum color at all angles.
Kindle Fire HD also comes with stereo speakers plus exclusive Dolby Digital Plus audio engine for excellent audio output. There is dual-band (two antennas) Wi-Fi on board as well.
The new features already introduced within the Kindle Paperwhite for the ebook reader will be here too. But here will be even more – like the X-Ray for movies (IMDB-powered). You can touch on some of the actors while watching a movie and see their names and bios.
You can now sync game saves with the Whispersync so you can continue playing where you left off regardless of the device. Whispersync can also be used to save your progress on an audiobook and resume on the exact second you've left listening. You can even continue reading the real e-book where you ended listening to the audiobook and vice versa. Naturally, this feature uses the cloud to store your game saves and book listening.
Also unveiled a special mode for children giving them access to safe-only content. It's called Kindle FreeTime and it allows parents to create profiles for their children. When activated, they basically make only certain content available and the availability can also be time limited making "negotations with kids" a bit easier.
A few new apps will come in help too – Facebook, Skype (video-chats will be possible thanks to the front-facing HD camera) and updated email client.
The 7-inch Kindle Fire HD will launch on September 14 for $199 (16GB) and $249 (32GB), while the 8.9-inch model will become available on September 20 for $299 (16GB) and $369 (32GB).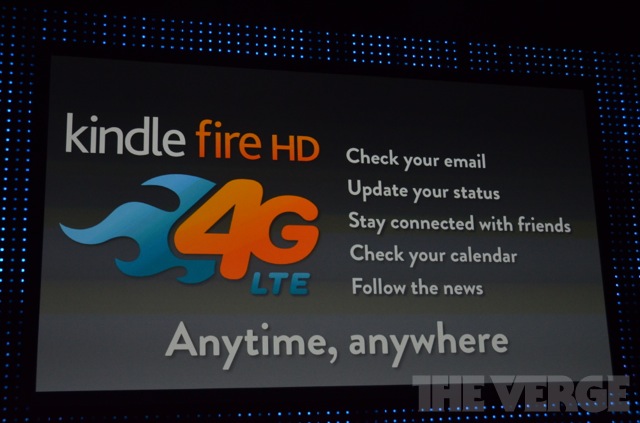 Amazon will also offer a 4G LTE version of the tablet with 32GB and 64GB internal storage for $449 and $599 respectively and they will be available starting November 20. You must pay for Amazon's 4G LTE Package, though, which costs $49.99 per year and includes 250MB monthly data traffic, 20GB of cloud storage and $10 of Amazon credit. Nice!