Boy, this is big! Amazon just unveiled their Android-running Kindle Fire slate and it's looking like a real winner. The $199 tablet has a 7″ IPS LCD with a resolution of 1024 x 600 pixels and runs on a TI OMAP chipset with a dual-core CPU. Its screen has a Gorilla glass cover on top and a special anti-reflective coating that should make it fully usable outdoors.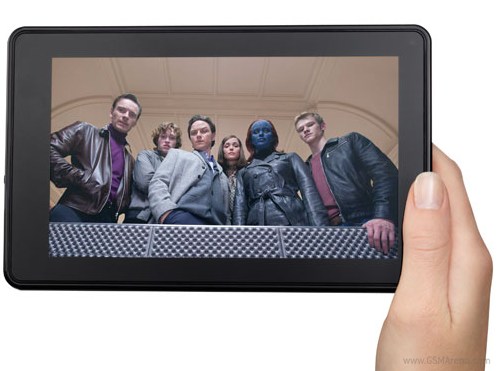 Weighing 413 grams, the Amazon Kindle Fire is a relatively compact tablet at 190 mm x 120 mm x 11.4 mm and it's thinner than the Nook Color, which has a profile of 12mm. The Kindle Fire has just 8 GB of internal storage, but Amazon is offering free online storage for any content you get from their ecosystem. That means some of the 18 million movies, TV shows, songs, magazines, and books that you can purchase from the tablet itself plus the apps from the Amazon Android app store.
And if you happen to be an Amazon Prime subscriber, you will be getting unlimited instant streaming of over 10,000 popular movies and TV shows. A one-month Amazon Prime trial will come as a gift to all Amazon Kindle Fire users.
The Kindle Fire also features a 3.5mm audio jack and a standard microUSB port. Its battery should be good for 8 hours of continuous reading or 7.5 hours of video playback.
Amazon will also be equipping the Kindle Fire with a newly introduced Silk web browser. The cloud-accelerated should really improve your browsing speed with the use of the Amazon Elastic Compute Cloud (EC2). Some of the page loading will be offloaded to EC2, which will also act as a limitless cache for your Silk browser. Plus it will try to learn your browsing patterns and try to preload pages in advance for you.
Now those were all the good bits and if you ask us – they are more than enough to warrant the $199 price tag. However there's also some downsides to the Kindle Fire.
First, it may be based on Android, but customizations run so deep that you probably won't be able to reach the platform itself. That means no access to the Android Market with the vast number of apps it offers.
There's also no network connectivity of any kind – the Kindle Fire is a Wi-Fi-only device. And there's no microphone on board so video chatting isn't an option (though you can probably connect a handsfree set).
Pre-orders for the Amazon Kindle Fire have already started and you may follow this link to book your place in line. You will have to wait until November 15th to get your unit.