Amazon has announced two new models of its popular e-reader, an updated version of their standard Kindle, now with a touchscreen, and a brand new Kindle Voyage.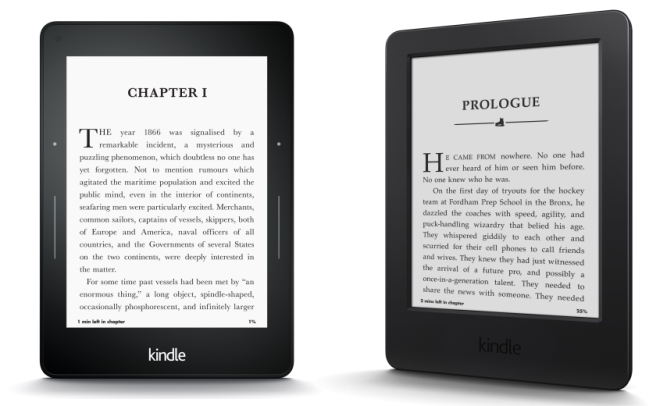 The Kindle Voyage is the seventh generation model in the Kindle series. The latest version features an updated Paperwhite display, which has a higher resolution and a pixel density of 300PPI. It is the highest resolution, highest contrast, and highest brightness display on any Kindle so far.
The new display has a flush glass covering on top that is scratch resistant. To prevent glare and reflections, the display is micro-etched to diffuse light. Amazon also claims the texture of the glass is designed to match the texture of paper.
Another cool feature is adaptive display brightness. It automatically adjusts the display brightness to the ambient light. While that isn't particularly new, it also automatically reduces the brightness of the display over time as you read to reduce strain on the eyes from staring at a bright screen for too long.
Another new feature is PagePress. Along the side of the display are sensors that detect when you press the screen with a light press and turn the page. The Kindle responds with a light haptic feedback, which along with the press sensitivity, can be adjusted.
Amazon is giving away free 3G for users to download books instead of hunting for Wi-Fi, which works in over 100 countries. The 3G comes without any fees or contracts.
All of this is put inside the thinnest Kindle body yet, which is 7.6mm thick and made with a magnesium back. The Kindle Voyage also gets new Origami Cover, that works as a case and also folds to become a stand for reading.
Along with the Kindle Voyage, Amazon has also updated the cheapest standard Kindle model in their lineup. The new Kindle now has a touchscreen display, along with a 20% faster processor, and twice the storage.
The new Kindle Voyage is priced at $199, while the new Kindle will cost just $79. The older Kindle Paperwhite is still available for $119.