Yesterday saw the launch of the first two Firefox OS phones, the Keon and Peak from GeeksPhone. There were some questions just how much demand there will be for yet another OS on the market and if this launch is any indication, the answer is "enough."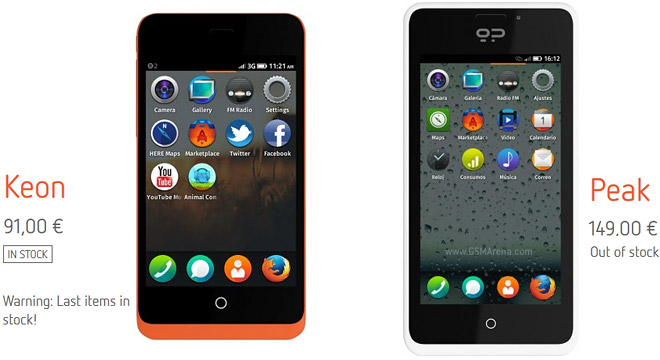 The stock of the two phones ran out just a few hours after they went on sale yesterday, though the numbers sold were not announced. Still, much like other GeeksPhone handsets, these are primarily oriented towards devs, so even if there weren't that many phones at least it shows good developer interest.
According to TheNextWeb, GeeksPhone aims to ship 5,000 phones per day. TechCrunch got in touch with GeeksPhone who confirmed there's more stock on the way and the Keon and Peak should be back on sale this Friday.
Actually, there seems to be some units of the lower-end €91 (before taxes and subsidies) Keon phone, with a note "Warning: Last items in stock!" The €149 Peak is firmly out of stock.