The Alienware has just announced the most portable gaming laptop ever. The 11-inch Alienware M11X will pack a powerful Intel Core2Duo processor (unknown at this stage), DDR3 RAM, and a NVIDIA 335M graphic processor with 1GB DDR3 video memory.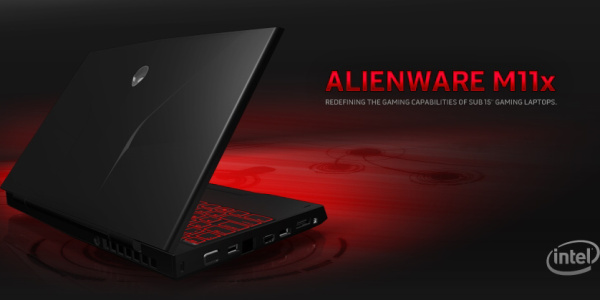 Alienware will provide seamless switching between the integrated graphic chip and the discrete NVIDIA one, which means the M11X will sport two GPUs, just like an 15" or 17" MacBook Pro. As far as the video outputs are concerned – VGA, DisplayPort and HDMI ports are more than you will ever need.
And here comes the most important part of it (except the price) – the performance. Alienware reports 60 fps in Crysis (unknown settings), 30 fps on Modern Warfare 2 on High settings (but no AA) and 6000-7000 points for 3DMark06. The battery life is impressive – 6.5 hours for normal work and 2 hours of intensive gaming, but that's no surprise since the M11X comes with 8-cell battery.
The Alienware M11X will be available at the end of this year on $1000 price. It looks cheap for a laptop from this class, but you can surely get a normal Intel i7 powered PC and a netbook for that amount of money.