The Alcatel One Touch Hero is a 6″ phablet with a stylus to boot that aims to win the hearts of people who can't afford the Samsung Galaxy Note 3. We were pleasantly surprised at how well put together the device is – solid build quality, small bezels and good materials bring the Hero well out of Alcatel's usual entry-level range.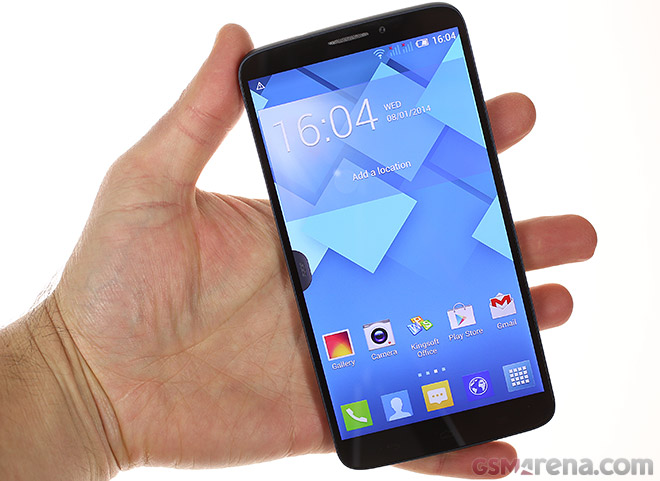 The phablet also has an intriguing accessory system that promises to be among its biggest assets.
A row of pogo pins and two magnets enable a variety of accessories, including flip covers. They are easy to attach and are held in place so it doesn't flap around as most covers. The one we got with the phablet, the LED MagicFlip shows notifications with hidden lights on the face of the cover.
A more advanced cover features a big e-ink display, so the One Touch Hero can replace your Kindle. Yet another accessory is a dock packing a pico projector. Both the dock and e-ink covers are prototypes at the moment. Alcatel has also shown a Bluetooth phone accessory, similar to the HTC Mini.
Impressive accessories aside, the Alcatel One Touch Hero has specs that put it in the upper mid-range – a 6″ IPS LCD screen with 1080p resolution, MediaTek chipset with quad-core Cortex-A7 (1.5GHz) and 2GB RAM, 13MP/1080p camera and a 3,400mAh battery.
The phablet comes in single- and dual-SIM varieties, but note that the dual-SIM drops the microSD card slot.
Alcatel has touched up Android 4.2 Jelly Bean with some enhancements like split-screen multitasking, several stylus-enabled apps, cloud-enabled apps and a few other goodies. Speaking of the stylus, it's a capacitive stylus so it's not as sensitive as Samsung's S Pen (no hover detection or pressure sensitivity either).
Anyway, here's a quick demo of the Alcatel One Touch Hero that shows the LED MagicFlip cover and the stylus in action.
Now that the CES craziness has died down we're starting on a full review of the Hero.