Adobe and Apple won't stop at anything to prove each other wrong and now Adobe have found a valuable ally in Google and their Android OS. As we are expecting Google's announcement of Flash-flaunting Android 2.2 (Froyo) tomorrow, Adobe have already prepared a list of Flash-enabled websites to demonstrate the new Flash prowess Nexus one and Motorola DROID will get as soon as they update to Android 2.2.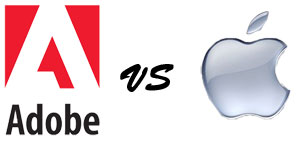 There are two separate lists of recommended sites for the Google Nexus One and the Motorola Droid (known as MILESTONE on our side of the big pond). This is good news to the owners of those devices as they are the ones most likely to be the first to get the ultra fast Froyo update.
I'm pretty interested to see how this one unfolds. If the Nexus One and the MILESTONE run Flash seamlessly as Adobe promises it might be a huge hit on the Apple and iPhone reputation. It would mean that full web experience on mobile phones has come another step closer and Apple are lagging behind. If there are too many performance hiccups or excessive battery drain, however this might backfire to Adobe and its recent anti-Apple campaign.