After an accidental launch yesterday, where the app was prematurely made available on the New Zealand app store and then pulled down, the iOS version of Photoshop Touch is now available worldwide on the App Store. It will, however, only work on the iPad 2 and also requires the presence of iOS 5.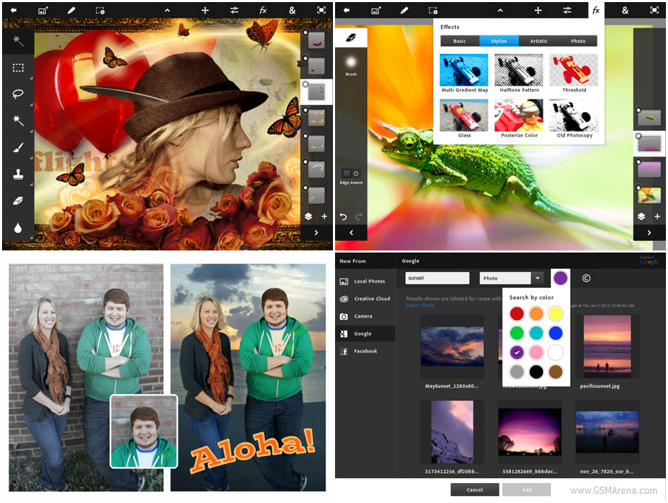 This app is part of Adobe's mobile suite of applications for the iOS, which also includes the Adobe Revel, Adobe Color Lava for Photoshop, Adobe Eazel for Photoshop, Adobe Nav for Photoshop and Adobe Photoshop Express, and lets you 'combine images, apply professional effects, share results with friends and family through sites like Facebook, and more – all from the convenience of your iPad.'.
Along with that, you can also:
• Use popular Photoshop features designed for the tablet such as layers, selection tools, adjustments, and filters to create mind-blowing images.
• Use your iPad camera to fill an area on a layer with the unique camera fill feature.
• Select part of an image to extract by scribbling with the Scribble Selection tool. With Refine Edge, use your fingertip to capture even hard-to-select image elements, like hair, with ease.
• Search and acquire images with the integrated Google Image Search.
• Share images on Facebook and view comments right within the app.
• Browse an inspirational gallery for the styles and results you'd like to achieve. Then follow step-by-step tutorials to easily learn techniques the pros use for great-looking results.
• Use AirPrint for wireless printing of Photoshop Touch projects.
• Upload projects to Adobe Creative Cloud and open layered files from Adobe Photoshop Touch in Photoshop CS5.
Unfortunately, though, the app only supports a maximum image resolution of 1600 x 1600, which is a major restriction.
Adobe Photoshop Touch is available for $9.99 and can be downloaded from the source link below.