It appears that Microsoft Windows Phone 8.1 is hotter beyond anyone's expectations. Only three days after going live, the developer version of the newly-launched OS runs on 3.1% of all WP devices.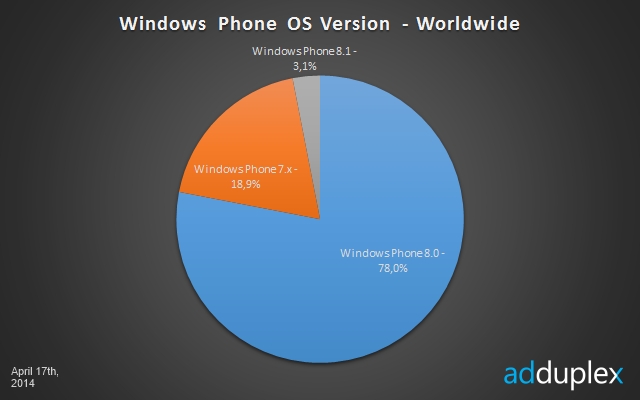 The data you see above comes from AdDuplex – the largest cross promotion network for both WP and Windows 8 apps. It was collected over the day on April 17 (the developer version of WP 8.1 was launched on April 14).
The rapid rise in market share of the newly-launched OS means that in addition to the members of the Windows Phone developer community, a great deal of enthusiasts have gotten their hands on the OS (obtaining a WP developer status is free and you can do it over here).
It will be a few months before Windows Phone 8.1 is officially available as an update. The first smartphones to run the OS, Nokia Lumia 630/635 and Lumia 930 will arrive in May and June respectively.
Windows Phone 8.1 brings a great deal of new features to the platform. They include the digital personal assistant Cortana, Action center, updated UI with custom lockscreen and tile backgrounds, IE 11, etc. You can find out all about the OS in our detailed review.