Acer's MWC press event is already under way in Barcelona and a few new phones have been announced. Among these are two entry-level Android phones which are meant to extend the Liquid line, as well as a Windows Phone handset. The manufacturer has already released promotional videos for the pair of phones, which can be found on YouTube.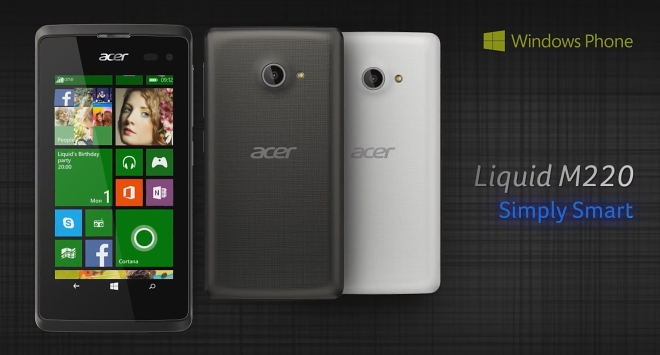 Despite their modest appearance Acer markets the devices as "all-rounder" phones and accents on the full-featured Android experience they deliver. All three phones spout a rather small, by today's standards 4-inch 233ppi WVGA screen. The two Android models are powered by a Qualcomm Snapdragon 400 SoC, clocked at 1.2 GHz with only 1 GB of RAM. The Z220 spouts a 5MP main shooter, while its bigger brother, the Z520 has an 8MP camera and a small 2MP camera sits on the front of both devices.
Despite this less than impressive specs sheet Acer really accents on the photo quality in the promo video of the Z520 and the M220. The slogan for the little Android even reads "Better photos, hands down", which sounds like a huge stretch, but we will know for sure once we get our hands on the pair. As far as design goes, both Liquid models are simple and straight-forward and have an interesting "texture-style" finish on the back, which coincides with Acer's teaser from few days ago.