Samsung officially announced the accessories for the Samsung P1000 Galaxy Tab. The keyboard dock is one of them and there's a multimedia dock, cases, cable chargers and others – here's the shopping list…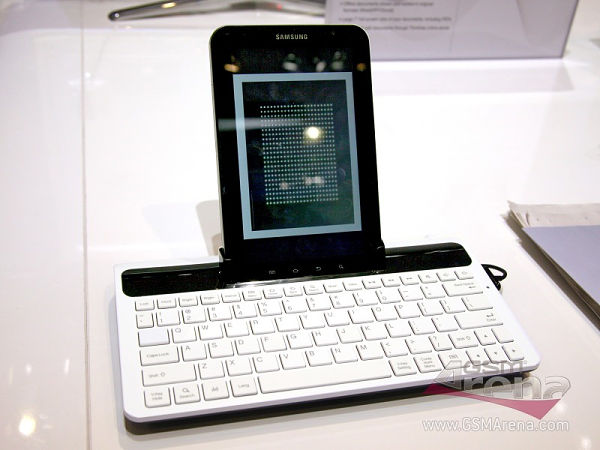 The keyboard dock holds the Samsung Galaxy Tab in portrait orientation and offers a full QWERTY keyboard with 83 keys, charger plug and 3.5mm audio jack. It will set you back 69.99 pounds (110 US dollars or 80 euro) – as much as it was expected to cost.
Next up is the Multimedia Desk dock – it holds the Galaxy Tab vertically (wouldn't horizontally have been better?) and features a mini-HDMI (and why not regular HDMI, given the available space?), a 3.5mm audio jack and of course a charger plug. It's slated to cost 39.99 pounds (63 USD or 45 euro).




Samsung P1000 Galaxy Tab and its optional QWERTY keyboard • HDMI dock
The Notebook/Stand case is made from leather and serves a double purpose as its name suggests – it's a case to protect the Samsung Galaxy Tab but can also be used as a stand. The price tag on the Notebook/Stand case is 29.99 pounds (47 USD or 34 euro). There's also a Leather Slip (24.99 pounds) and D30 Silicon/Gel case (19.99 pounds).
The list of accessories includes portable battery powered speakers and headphones too (both 19.99 pounds/31 USD/23 euro). There are other things like data cable (14.99 pounds), TV-Out cable (14.99 pounds too), travel adapter (34.99 pounds) and a car charger too (24.99).
All these accessories for the Samsung Galaxy Tab will be available in the UK on November 1 along with the Tab itself, except the D30 Silicon Gel case, which will come out in mid-November, and the portable speakers, which are available now.
Those all sound great, though a bit pricey – the keyboard dock for the iPad is 55 pounds for one. And what's with the "multimedia" dock that doesn't let you view videos (16:9 in portrait orientation won't do) and doesn't use a regular HDMI cable to hook up to your TV?