It's no secret that Samsung wants a big chunk of the tablet market. The Koreans were the first major manufacturer to release a 7" Android tablet last summer and a 10.1" slate joined it a couple of weeks ago. Now the Koreans are preparing to launch another Galaxy Tab, which should fit somewhere in between.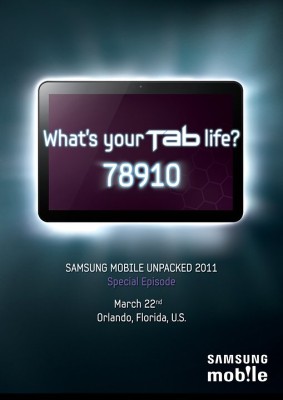 The teaser poster published on the Samsung Facebook page (pictured above) asks "What's your Tab life?" and contains the numbers 7, 8, 9 and 10. With 7" and 10" devices already covered we suspect we are going to see either an 8" or a 9" Galaxy Tab announced on 22nd of March.
Of course we wouldn't mind if Samsung unveiled two both, though seeing how these things go this seems highly unlikely.
As you can imagine none of the specs of the new device are available just yet, but we can clearly see a video-call camera on top. Judging by its location the new Galaxy Tab will be closer to the 10.1" version we saw at the MWC so telephony seems unlikely.
Also notice that honeycomb in the lower right corner? No prizes for guessing the OS that will be powering the new Tab.
By the way, the Samsung Galaxy S was announced on 23rd March last year so we might see the next big thing in the Android world at this "special episode" of Samsung unpacked.
Here's hoping!