The Samsung Galaxy Nexus is one of the hottest devices of the season, so it's understandable that its arrival to America is hotly anticipated. And thanks to a leaked ad, we know its price and, possibly its exact launch date.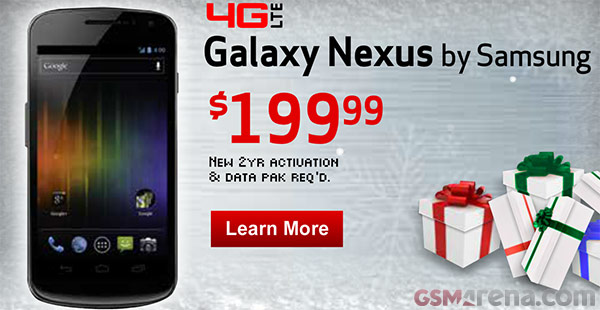 The price bit is more certain as it appears on the ad itself. At $199.99 the LTE-packing Samsung Galaxy Nexus will be $100 cheaper than previously expected, which will probably make it even better of a Christmas present.
Curiously, the Nexus Prime name that we heard of just three days ago is nowhere to be seen this time and the Verizon-bound smartphone is said stick with Samsung Galaxy Nexus.
As for the release date, there is a suspicious tag on the URL of the page that opens when you click learn more on the ad. It says "cmp=BAC-OM-111129-HOLIDAYSAMSUNG", which we guess points to a November 29 availability of the ICS-tasting droid. And yes, that's just four days away, so we won't need to wait long to find out if our assumption is right.
What seems certain is that the Samsung Galaxy Nexus should make it to the Verizon shelves in time for Christmas. And with a price like that it will be quite hard to say no to it.