Well, hello webOS tablet – the HP TouchPad (that's right, no Palm branding here) just went official. The new Touchpad, which was previously rumored as HP Topaz, is ready to impress with some excellent collaboration with its phone siblings – just tap a Pre 3 on the tablet and your call is transferred from the phone to your TouchPad over Bluetooth.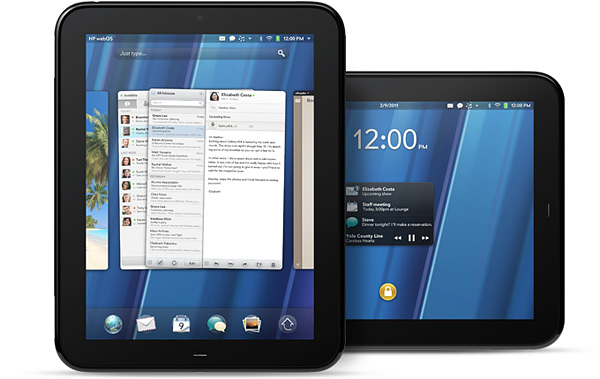 With a dual-core processor and webOS's card-based multitasking, the HP TouchPad will eat those older tablets for breakfast…
The TouchPad uses a 9.7" touchscreen with 1024×768 (hello, iPad) and at its heart beats a dual-core Qualcomm Snapdragon APQ8060 ticking at 1.2GHz. The Touchpad will surely need the extra power with its convenient multitasking and Flash 10.1 support in the browser.
There will be 3G-enabled models (data only), which will pack a GPS receiver, and another version with neither 3G or GPS (hello, iPad again). Interestingly, there will also be a 4G LTE version, most obviously, a nod to Verizon.
Wi-Fi b/g/n is supported either way, as is Bluetooth 2.1 with A2DP. The HP TouchPad has a front-facing 1.3MP camera for video calls, but no camera on the back. A 3.5mm audio jack, stereo speakers and something that HP calls Beat audio engine will tale care of the audio department. There will be two options for the internal memory – 16GB and 32GB.
All that gadgetry is packed inside a 240x190x13.7mm body weighing 740 grams (those are almost the exact dimensions of the iPad). There's a hefty 6300mAh battery feeding the dual-core CPU and big screen (HP is mum on battery life though).
Check out this promo video of the HP TouchPad.
The Touchstone technology is interesting – it lets the TouchPad and a compatible phone share a web page, or even transfer an SMS or phone call from the phone to the tablet. No complex set up is required, you should only put the phone over the tablet while the tablet is on its charging Touchstone dock.
The HP TouchPad supports wireless printing too (with a compatible HP printer) and there are some accessories, including a wireless keyboard and a stand that charges the TouchPad, also wirelessly.
The HP TouchPad is coming this spring with a yet unannounced price.