With all the fuss surrounding iPhone 4 announcement you may have missed another announcement made by Apple at the WWDC event. Steve Jobs mentioned it when talking about the pricing of the iPhone 4, so understandably the attention was focused elsewhere.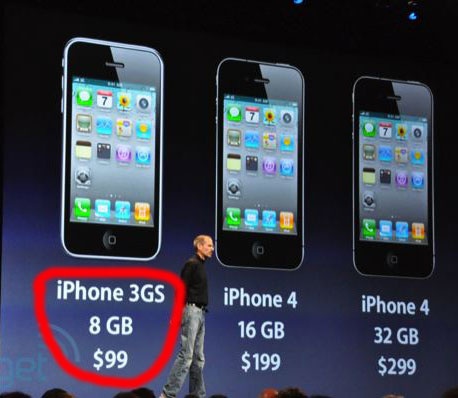 So yeah, the rumored 8GB version of the iPhone 3GS is finally seeing daylight. And the increasingly bad timing of its appearance aside, it might help a few people upgrade their iPhone and iPhone 3G units on the cheap.
Available for 99 US dollars on a contract with AT&T, the 8GB 3GS should cost about as much as the 3G costs now in the rest of the world too. Not too bad a deal considering that you get nearly two times better performance, auto focus camera and video recording. Plus multi-tasking, once the iOS 4 update goes live on 21 June.
The iPhone 3GS will be sold in black only.