Samsung have undertaken less than subtle ways to continue its fight against Apple in Australia. They've set up a temporary shop in Sydney just outsides Apple's own shop and are offering Samsung Galaxy S II droids for $2.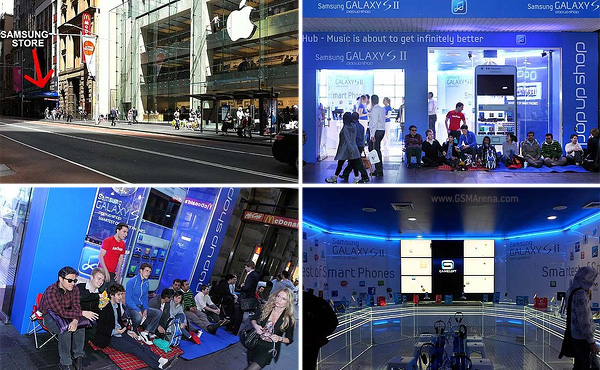 Sounds like a great deal, right? It is, but there's a catch. Even so, the line to the Samsung store is reportedly longer than the line to Apple's store. A line of people to an Apple store is practically a tradition when there's a new gadget from Cupertino about to be launched, the iPhone 4S in this case.
So, this is a dirty play from Samsung trying to beat Apple at their own game. But I mentioned a catch – only 10 people a day get a $2 Galaxy S II, the rest are there waiting to get a chance tomorrow or the day after that.
You can check out the whole article over at the Muswellbrook Chronicle, which also takes a look at the line in front of the Apple store and tells the touching tale of two friends who met while waiting in line for the iPad 2, who are now waiting for an iPhone 4S (and have tons of free time, I suppose).
Anyway, this is a transparent publicity stunt on Samsung's part but still, getting a $2 Samsung Galaxy S II is a great deal. Not a lot of people will get lucky though.