A new 12-inch netbook by Asus has just been spotted at an Italian online retailer's page and it appears ready to make you rethink your idea of cheap. While right now you can hardly go much lower than €450 for a dual-core netbook with 12″ screen, the Asus 1215P asking price is just under €280.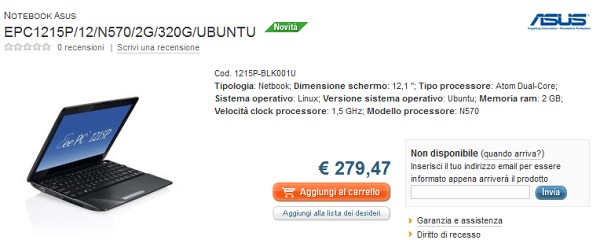 Of course, a portion of the savings is due to the fact that the 1215P is running Linux, rather than Windows, but even factoring that in, its unbelievably cheap. For that kind of cash you are getting a 1.50 GHz dual-core Atom N550, 2 gigs of RAM and a 320GB hard drive on a 12-inch screen chassis.
The 12″ screen has a neat WXGA resolution (1366×768 pixels) and there's a 6-cell battery included in the deal, so it's really as good a price as you can get. The only problem is that the retailer doesn't list a specific launch date, so there's no saying when will you be able to get one for real.