Toshiba has been pretty open about its development of a Tegra 2-powered tablet that runs Honeycomb, but only now we see its official announcement, complete with pricing, release date and name. The bad news is that the Toshiba Regza AT300 will only be hitting Japan and we are still in the wait for European and American versions.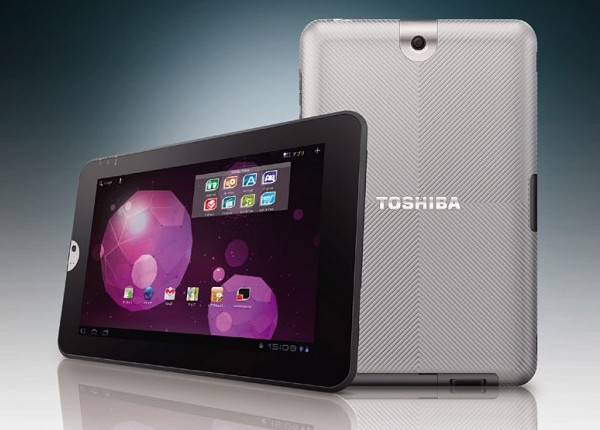 Anyway the Toshiba Regza AT300 10.1-incher looks like a pretty powerful beast with its Tegra 2 chipset, featuring a couple of Cortex-A9 cores, clocked at 1GHz. Yet its main feature remains the glasses-free 3D screen with a resolution of 1,280×800 pixels. The adaptive display features some new technology, which allows it to adjust color balance in addition to brightness depending on the ambient light. We can't say if that will bring any real-life benefits before we try it out ourselves, but it certainly sounds interesting.
The Regza AT300 will come with 16GB of internal storage and 1GB of RAM, plus a couple of snappers (a 5MP one on the back and a 2MP one on the front). You also get miniUSB and regular USB (with USB host support) ports, plus an SD card slot (which will allow you to have all the storage you need) and an HDMI port.
The "REGZA Apps Connect" feature will let the Toshiba Regza tablet easily connect with other Regza devices (including HDTVs, laptops, smartphones and media players).
Unfortunately, the Regza AT300 is neither slim (15.8mm), light (765g) nor cheap (it will cost about $730). There is also no network connectivity and its 7-hour battery life, while sounding reasonable, is not as impressive as most competitors.
If you live in Japan and still want to give it a try you will be able to do so in June. Frankly though, we can't see this one providing any real competition to the Asus Transformer so Toshiba will have some work to do before they bring it around these shores.