After the recent mass roll-out of the new material design look, the YouTube app is once again receiving special treatment from Google. The latest addition to the video streaming service is the long-requested feature of offline video playback.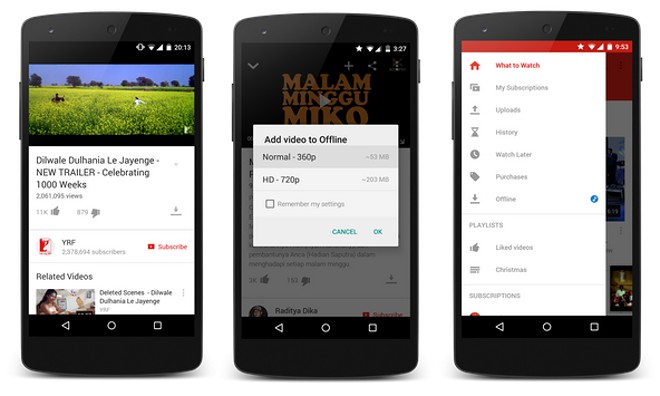 This sounds incredibly exciting, but before you head on to the Play Store eager for an update, there are a few catches. The new feature is initially available only in India, Indonesia and the Philippines and only for select video content, or as Google put it: "much of [the] popular YouTube content". So if you happen to reside in the aforementioned areas, look out for an offline icon on certain clips to see the feature in action.
Offline playback works much like you would expect. After selecting a supported video, you will be prompted to choose a quality option and after the video is all cached locally it will remain available without internet access for up to 48 hours.
It comes as no surprise that Google is rolling out this feature exclusively to Asian markets. Offline YouTube has been in the works ever since the launch of Android One back in September. It is part of a much larger effort to bring innovative services, tailored to areas, which still suffer from lack of adequate internet access. The importance of mobile data is very significant in most fast-growing Asian markets, but online services there need to be delivered in an efficient way to cope with the challenges of poor quality connections. A recent Google blog post had this to say about matter:
"Asia has proven itself to be a mobile-first world in terms of smartphone adoption, but access to high-speed, affordable data remains a big challenge. In response, we've been working on ways to lessen the demands of speed and data for people using our products in places where there are challenges to access," the company said in a blog post."
This all sounds great, but offline viewing of YouTube content has a rather universal appeal and the pressure is on for Google to make the service widely available.