Xiaomi has definitely been on the rise in 2014. The Chinese company is firmly grounding its reputation as a trusted manufacturer of quality devices with a very good value to price tag ratio. But besides recent bestsellers in the smartphone market, like the Redmi 1S and the Xiaomi Mi3, the tech giant also offers a wide range of other consumer devices, like TVs, Media players and headphones and is constantly branching into new markets with offers like the Mi Air Purifier.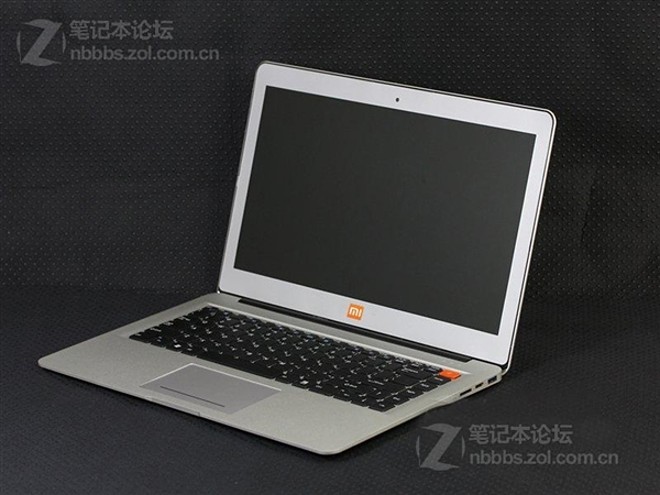 New rumors have now surfaced, stating that Xiaomi may be expanding into the PC market with its first ever laptop. Speculations about such a move have been circulating for the past few months but it is only now that we are seeing some more-convincing evidence in the form of photos and possible specs. The leaked shots show a device, visually similar to the Apple Macbook Air line.
The computer bears much the same shape and bezel design, down to the edges as well as the color scheme. There are however some apparent differences. The "Mi" logo is clearly visible below the screen, as well as on the back, which appears to have a sandstone finish in contrast to Apple's signature aluminum, but the photo in question could be of the back of any other device. An orange function button also helps the Mi laptop stand out and instills a lot of brand identity.
The rumor mill was generous enough to back the photos with a suggested specs sheet for the alleged new device. It is going to be powered by an Intel Haswell chip – i7 4500U and boats two 8GB dual channel memory modules, for a total of 16GB of RAM. The laptop will be offered in a 15-inch variant with a Full HD 1080p display and initial reports suggest a price tag of CNY 2,999, which is only around $481.
With those specs and that price tag the Xiaomi Mi laptop definitely offers a huge value for money ratio, not unlike the company's smartphone lineup. No official statement is available as of yet, concerning the laptop so for now the leak should be taken with a grain of salt. However a little digging around lead us to a strikingly similar reference laptop design, which might just be featured in the leak, with the company logo edited on top. But if the device is in the works then Xiaomi might just have another instant hit on their hands to extend their success in new tech fields.