WhatsApp now offers its own prepaid service through E-Plus in Germany, letting you use the popular messaging app for a fixed monthly amount. The offer also features unlimited usage of the app even if you don't have any standing traffic left.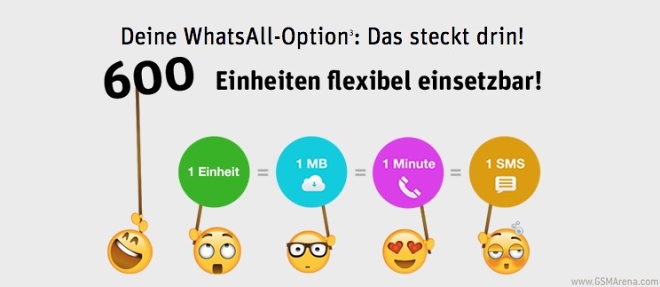 The package with the SIM card is on offer for €10 but features a starting balance of €10 itself making the SIM practically free. Otherwise a call or text will set you back €0.09 to all German carriers whilst 1 MB will cost €0.24.
For an additional fee of €10 you can add a WhatsAll option, which will give you 600 units to use with either minutes, texts or data for 30 days. If you use up all data you'll still have unlimited MB available but the speeds will drop to 56 KBits per second. Additionally for €4.99 Euro you can get 50 MB or 50 minutes for calling in roaming that will be doubled from April 11 for a limited time to 100 MB or 100 minutes.
For now the WhatsApp SIM is available only through E-Plus but the company is launching a separate app to control the SIM on iOS and Android.
You can pre-order from the E-Plus site (linked below) or through Amazon.