The LG G4 is the new kid on the block and inevitably faces fierce competition. We invite you to share your thoughts on how LG's latest and greatest compares to the current crop of premium offerings.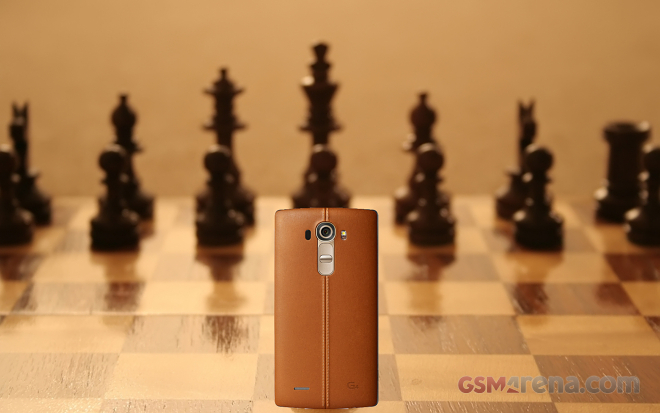 The G4 may be a little late to market, compared to the Samsung Galaxy S6 and the HTC One M9, but that should give it an advantage in technology, right? Meanwhile, the iPhone 6 Plus is in a whole different camp, but no premium smartphone shootout can be complete without Apple taking part.
First up, the LG G4 takes on the Samsung Galaxy S6, arguably the current king of the Android realm. The G4 takes the camera aperture a notch wider to f1.8, and offers proper manual shutter speed, so photography enthusiasts should be happier with it, at least on paper. The display of the G4 is larger at 5.5 inches, but the Galaxy S6 has that superb SuperAMOLED panel going for it. The Snapdragon 808 is no match for the Exynos 7420 though, and raw performance clearly goes in favor of the Galaxy S6. The G4 sports a removable battery and microSD expansion option, while the Galaxy S6 lacks both.
The HTC One M9′s camera comes with a slower f2.2 lens and no OIS, but has a larger 1/2.3″ sensor when the one in the G4 is 1/2.6″ in diagonal. The One M9 has a smaller 5-inch display with FullHD resolution, and the G4 trumps it with its QHD 5.5-incher. The Snapdragon 810 should have been a better performer than the S808, but thermal limitations have meant that the the One M9 may actually be bested by the G4, according to our preliminary tests. The One M9 does come with a microSD slot, but its battery is sealed. You do get a beautifully crafted aluminum unibody, to make you feel better about that.
And of course, the iPhone 6 Plus, last in this comparison simply for being part of a different ecosystem. A lot of people insist that the iPhone 6 Plus has the best overall camera on a smartphone, but a more impartial mind would have a different say on that matter. The iPhone's display is the 1080p flavor, so the G4 should have an advantage in sharpness. Hardware is hard to compare between the two platforms, but it's unlikely going to be a decider in this dilemma. The LG is stronger on versatility with its user-replaceable battery and storage expansion.