The Samsung Galaxy Ace 3 moniker is really the name of three different phones – one is a regular entry level Android phone, the other is a dual-SIM handset and the third one packs 4G LTE connectivity.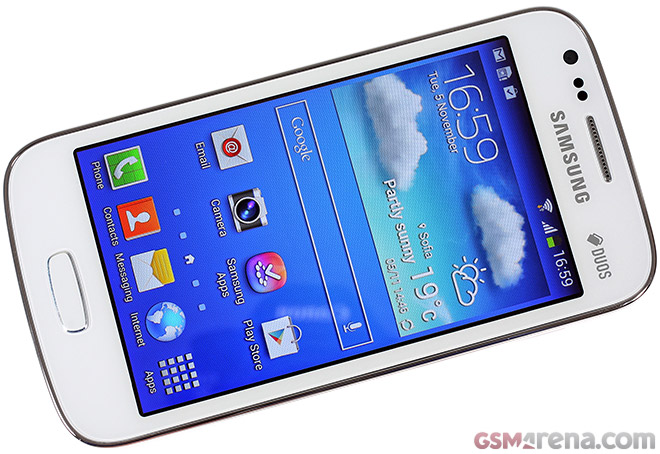 Today we have the dual-SIM variant on hand in our studio, so join us as we take a look at what makes the latest entry-level Samsung droid work.
First let's cover how it differs from the Ace 2. Well, the Galaxy Ace 3 has a slightly bigger screen – 4″ vs. 3.8″ – but keeps the WVGA (480 x 800) resolution. It also bumps up the clock speed of its dual-core Cortex-A9 processor, from 800MHz to 1GHz in the regular and dual-SIM versions and 1.2GHz for the LTE model.
The LTE model also has a bigger battery, 1,800mAh, over the 1,500mAh batteries of the two 3G Ace 3s and the Ace 2.
The camera on the Samsung Galaxy Ace 3 hasn't really changed since the Ace 2 either, it's still a 5MP / 720p shooter (which is par for the course when it comes to entry-level Androids). At least it comes with a fairly recent Android 4.2 Jelly Bean out of the box with TouchWiz's custom features. They include Smart Stay, which prevents the screen from locking if the front-facing camera can see you, and Smart Alert, which vibrates the phone when you pick it up if there are missed events and partly compensates for the lack of notification LED.
TouchWiz should be very familiar – tens of millions of smartphones per quarter are sold with Samsung's custom UI. It's not the prettiest of skins, but is very functional and customizable. Here's a taste of the Galaxy Ace 3 with TouchWiz in a short hands-on video.
We're starting work on a review where we'll be taking a closer look at what's new with the Galaxy Ace 3. The Ace 2 is still a great option for an affordable Android in (it made the cut in our shopping guide), so the Ace 3 has a lot to prove.