Vivo is one of those small Chinese manufacturers that rarely make headlines, but when they do, it's usually big. The company definitely deserves credit, as it is generally quite open to experimentation and has always employed a premium quality approach to their tech.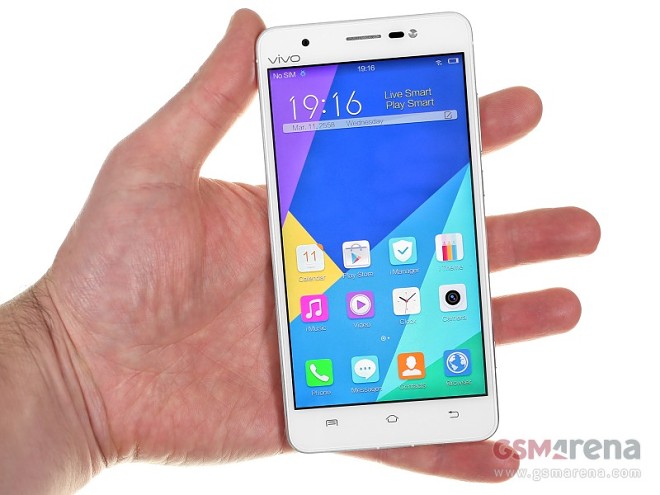 This, of course, has its down-sides, but the good news is that most every phone that bears the Vivo brand is quite distinctive in some way. The Xplay and Xplay 3S were very early adopters of cutting-edge hardware at the time of their releases and the Vivo X5 Max was the bearer of the title – "word's thinnest smartphone", that is before Gionee came along.
So, we tend to keep an eye on the company and their latest creation definitely lives up to the formidable legacy. The Vivo Xshot is a truly premium phone and this time around its definitive feature is, as the name suggests, the camera. The Xshot packs an ambitious 13MP sensor, complete with f/1.8 aperture and optical image stabilization and a resolution of 4160 x 3120 pixels, which is definitely impressive in the mobile realm.
This, however, is not to say that the Vivo Xshot has nothing else going for it, right on the contrary. The handset comes with a beautiful and stylish, all-white plastic exterior, complete with a metal frame. It really feels premium with supreme materials and build quality. The back cover is non-removable, so the SIM and microSD card slots are concealed behind a seamless cradle on one side. On the other, there are the volume rockers, power button, both metal, as well as a dedicated two-stage shutter button.
Straight off the bat, this speaks clearly that the Xshot means business, when it comes to photography. The huge protruding camera is another, not so subtle hint. It is accompanied by a dual-tone LED flash, for even better low-light image quality. The front-facing camera is also quite impressive. It is a 8MP sensor with its own dedicated LED flash. The Vivo is capable of capturing 4K video and we can't wait to put it through our obstacle course to see what it is actually capable of.
Speaking of hardware, the Vivo Xshot definitely packs some serious number crunching power. It is actually available in two versions – a high-end "flagship" version and a bit less powerful "elite" one. The Flagship has a Qualcomm Snapdragon 801 SoC, clocked at 2.3 GHz, 3GB of RAM and 32GB of onboard memory, while the "elite" version packs a Snapdragon 800, 2GB of Ram and 16GB of memory. Other than that, the two handsets are identical. They both boast a 5.2-inch Full HD IPS LCD screen, which is far from ideal, but quite vivid and crisp. An AMOLED solution would have been ideal, but let's not get picky.
Naturally, an Adreno 330 GPU is responsible for graphics, and the whole thing is powered by a 2600 mAh non-removable battery. Both phones offer LTE connectivity, but only the flagship version supports both FDD-LTE and TD-LTE.
On the software side, Vivo has gone down the proprietary road, as usual. The Xshot runs the company's own custom version of Android – Funtouch OS. The version is 1.2 and is still based on Android 4.3, so there is definitely room for improvement there. Other than that, GUI is really gorgeous and clean with a distinct Apple vibe, but not too much, like we've seen in so many other Chinese models. Vivo has thrown in a few nice features in the OS, like air gestures and a chronological timeline of user interactions, but there are still some edges to polish.
Menu arrangement is often confusing and differs just enough from more conventional Android builds to necessitate lengthy menu surfing for more convoluted options. Translations are also a little off and you can expect a lot of weird wording while using the device. Other than that, the Xshot is more than capable to handle most anything you throw its way. Vivo has definitely kept to its tradition of packing quality hardware.
Our brief video below can give you a general impression of the user interface.
And as long as we are on the topic of hardware, the audio really deserves a mention. Vivo has a long history of opting for premium audio components in its phones and the Xshot is now exception. While the main focus is definitely on the camera, the handset boasts pristine audio quality, especially through the 3.5mm output. We will get back to you on that, once we run the phone through our rigorous testing procedure, so expect the results in our review section pretty soon.