Twitter has updated its mobile applications on iOS and Android with some new UI changes. First of all, you will notice a new tweet compose window, which instead of a popup now appears as a new screen over the current one. You will also see larger fonts while typing but more importantly they have completely changed the way you add images and preview them.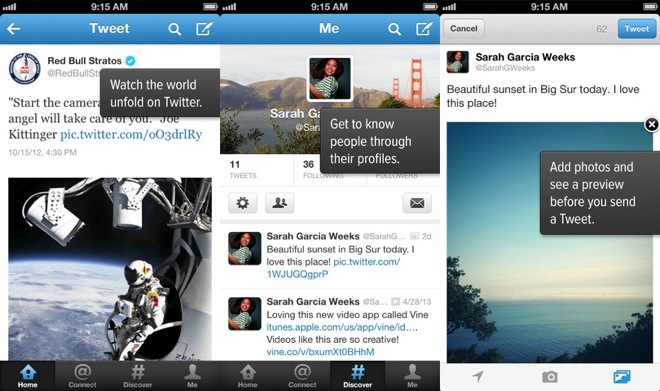 Now, when you try to add an image to your tweet, it will pop a drawer below that shows all your images from your device in a grid. This view includes images from all your folders so if you want to go to a specific folder without having to sift through all the photos then you can still do that by launching your image gallery from within the app and selecting the folder and the file.
After you add the image, you'll notice a new preview mode, where the image appears in the same size as it will in the tweet after you post it whereas it would show a tiny thumbnail on the side. This makes it easy to check how the tweet will look once you post it.
Other changes include an edge to edge timeline design, where instead of having white space on the side the timeline and menu items, they stretch right to the edges. The notifications have also been improved and on devices running Android 4.0 and higher you get details like avatars and can see how people are interacting with you (reply, retweet, etc.). You can also receive a notification when a friend joins. There are some bug fixes and performance enhancements but the Android version still refuses to refresh the image cache, which means display pictures continue to look the same even after people update them.
You can download the iOS and Android version from the links below.