Twitter started its own Google Play beta testing campaign and now the handful of people that registered for the early beta releases on Google+ (now closed) can get to experience the latest version of its Android app.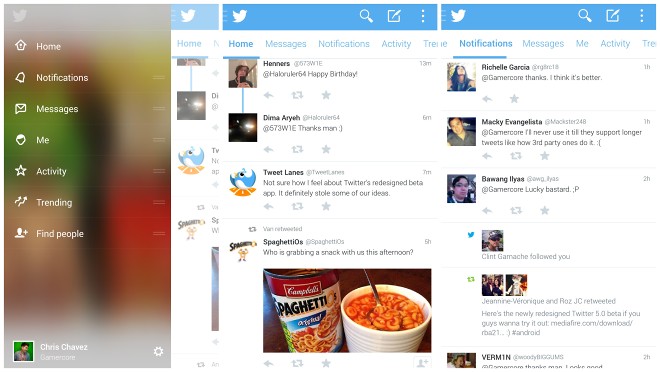 The latest release – Twitter 5.0 beta for Android brings a significant (and welcome) UI overhaul that changes the fixed clickable tabs for swipeable ones that you can rearrange through the side-accessible menu.
The guys over at Phandroid snatched the app and decided to a little compare side by side with the current one. Here's the video itself.
And if you're not signed up as a beta tester and want the app, you can download the Twitter 5.0 Beta apk here.
In other news Twitter filled the documents for its IPO. In layman's terms that means the company is going public, releasing stocks for people to buy in an attempt to get money to push its service further and introduce new products and services. Twitter is currently estimated to cost $10-20 billion but as it filed for the so-called secret IPO (S-1) the social network nets in under $1 billion revenue.
This is a big step for the 7 year old social network and it might have a pretty dramatic effect on its further development.