This innocuous little white SD card is the first to use the SD association's Wireless LAN standard, making file and photo management quick and cable-free as a result.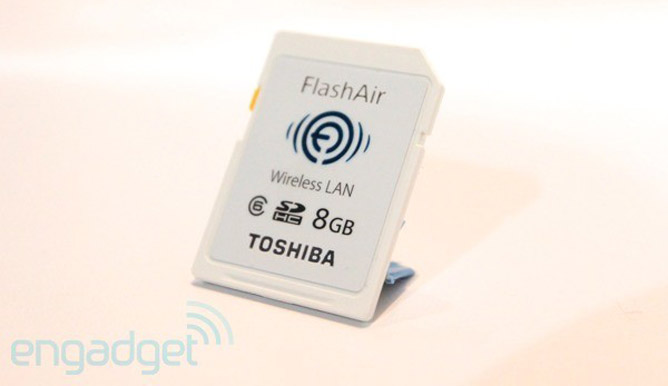 This is the Toshiba FlashAir WLAN SD card and it's showcasing its talents at this year's CES. The card actually broke cover last year at IFA 2011 too but it's here now to drum up interest before its official launch next month.
Of course we've seen SD cards have the power of WiFi bestowed upon them before, namely by the likes of Eye-Fi's Flash memory solutions, but Toshiba's FlashAir series takes a different, more direct approach to photo management.
Eye-Fi cards connect to existing WiFi networks in order to upload images on the fly, whereas Toshiba's new cards actually broadcast their own 802.11 b/g/n hotspots, each complete with its own web server, not unlike that of KiesAir found on certain Samsung mobile devices.
Once the card is inside a camera and powered up, the web server provides access for any connected device to the card's files, photos and anything in between.
Here's the Toshiba FlashAir at IFA 2011, it's an earlier build but the principles are very much the same
The current model demoed here is packed with 8GBs of class 6 Flash memory and like we said WiFi 802.11 b/g/n squeezed on there too, but Toshiba say we can expect some more spacious models at a later date this year.
If you can't wait however the 8GB model is scheduled to hit stores in February and will retail for around $70. Interested? Let us know what you think in the comments.