Tablets killed the netbook star, but are notebooks next? According to analysts at NPD DisplaySearch, tablets shipments will overtake laptop shipments this year and will start building a gap to push them out in the following years.

What's more interesting is that according to NPD's projections, the most popular screen size by the year 2017 will be 7.9″ and not the currently popular 7″ or 9.7″/10.1″.
This year, an estimated 207 million notebooks will be shipped, but tablets will grow 64% year-on-year and will reach 240 million sales. The second half of 2013 might see laptops reversing their decline a bit thanks to new processors that will bring the laptop experience closer to that of a tablet (the instant-on, always connected nature of tablets has so far eluded notebooks).
Right now, Apple's iPad and its 9.7″ screen dominate the market, though it lost some ground last year and will be overtaken by tablets with a smaller screen this year. Curiously, the cheap 7″ tablets that have flooded the market will lose ground too – the analysts are predicting that the 7.9″ screen size will experience an explosive growth and become the dominant screen size for the years to come.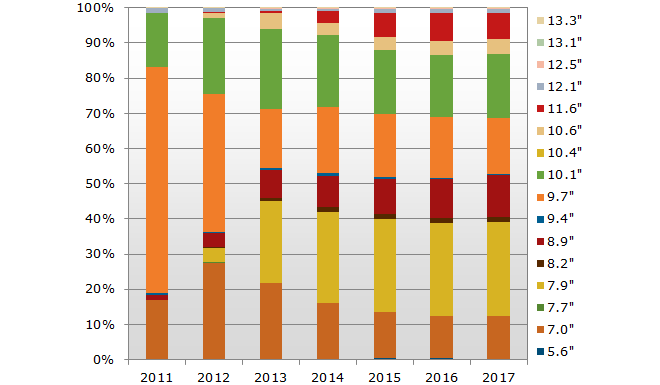 It's no coincidence that the Apple iPad mini is just about the only tablet with a 7.9″ screen. The 11.6″ tablets are expected to grow too (we've seen it mostly on Windows 8 based tablets) and the mostly forgotten 8.9″ screen size (used in several Android tablets).
Keep in mind that such predictions can't be trusted too much – with the price of 7″ tablets falling practically every day, seeing them lose ground seems unlikely.