I guess overclocking dual-core CPUs in mobile phones to 1.5GHz is normal now – a brave soul pushed the Tegra 2 chipset inside their T-Mobile G2x (a.k.a. LG Optimus 2X) to the breakneck speed, 50% up from the stock frequency.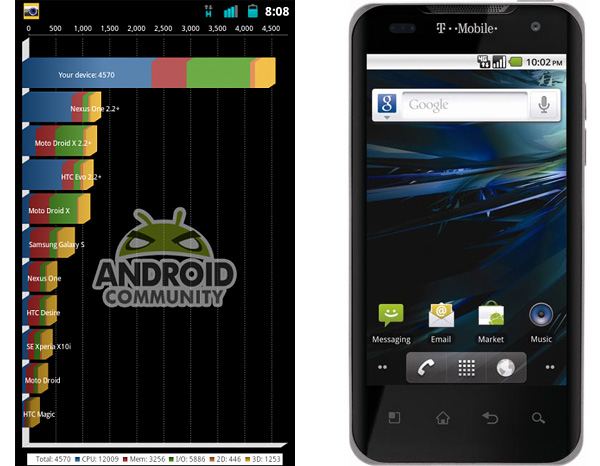 A week ago we saw a Galaxy S II reach 1.5GHz though the G2x manages to beat its score at some benchmarks.
The T-Mobile G2x was running CyanogenMod 7 with a custom kernel – the Trinity CM7 EXT4 1.5GHz kernel. It posted a whopping 4570 score on Quadrant, while on stock frequencies (1GHz) it only does around 2400. The switch to EXT4 probably contributes a good portion of that sizable increase though, it's not just the CPU.
Others using the same kernel have reported Linpack scores of 54 – up from the 36.85 we got from our Optimus 2X at stock speed. That's major improvement in pure CPU performance.
The Galaxy S II results from last week – the ones that had the phone running at 1.5GHz – pushed the Quadrant score to 4062 up from 3467 at default 1.2GHz speed (Note: the S II is using EXT4, it's the default for Gingerbread). Going to the CPU-only Linpack benchmark, the Galaxy S II was ahead with a score of 59.
You can read up on how the T-Mobile G2x was pushed to 1.5GHz over here. Also check out the Trinity kernel thread.