Well, it's definitely a Sony and it has four in its name and it's not a severely-overdue huge disappointment. You guessed it, it's the Xperia M4 Aqua and its Sony's latest mid-range offer. The Japanese tech giant really deserves points for this one, as it does look to be quite a premium device with a budget-friendly price tag. But, let's not be hasty and go by impressions alone.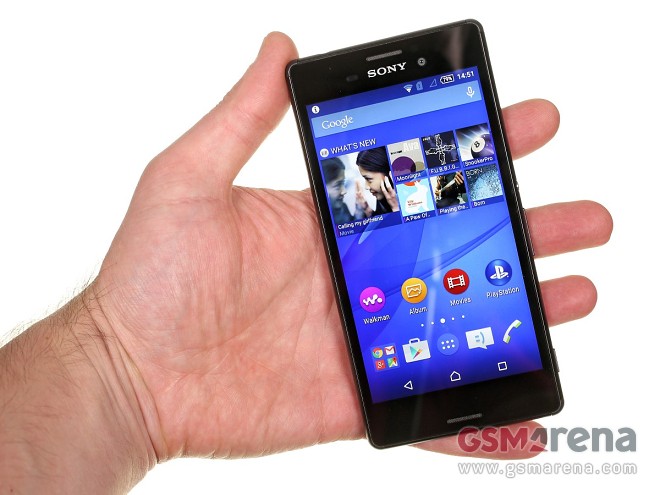 We first caught a glimpse of the M4 Aqua at MWC 2015 in Barcelona and it left us with quite a pleasant impression. The reality of Sony's current situation is kind of odd. In the absence of a proper flagship device, given the disappointment of the Z4, new mid-rangers are left with the hard burden of filling the void. There has been talk of an upcoming Xperia P2 with a formidable specs sheet, but for now it is up to the M4 Aqua to keep users happy.
Now that we have the M4 Aqua in our office, let's take a closer look and see what Sony has managed to pack into this €299 phone. When looking at the device, it is clear that it was modeled after the Xperia Z3 flagship. The styling is the same and the M4 Aqua even gives off the same premium material feeling, but it is all a convincing trick. Upon first contact you could easily be fooled that the M4 comes with a metal frame, like the Z3, but it is, in fact a very convincing polycarbonate. It fact it looks and feels so good, that we can't really find any faults with it.
The similarities extend to the back as well. The M4 aqua features a glass finish which does look quite slick, if you can manage to get it smudge free for long enough to appreciate it, that is. The material seems to be a little softer than the one on the Z3, as pushing down on the back panel does reveal quite a bit of give. Other than that, everything on the body is very tightly assembled and neatly covered up and it has to be, as the M4 Aqua is IP65 and IP68 certified for protection against water and dust. It even has the nylon covers in the four corners, just like the Z3, so it should do well if dropped.
The phone comes in three colors – black, white and a pink one, called coral.
Now, the build quality might be top-notch, but seeing how the price has to be kept low, there have been some compromises, especially in the specs sheet. The M4 Aqua is fitted with a 5-inch IPS LCD display, which looks quite well, but still only has a resolution of 720p. Sony's Triluminos display technology and Bravia tech manages to deliver enhanced colors and contrast, thus covering up a lot of screen imperfections. Still, the screen looks and performs admirably for the price and definitely a lot better than the E4 and E4g we reviewed recently.
The rest of the specs sheet includes a Qualcomm Snapdragon 615 SoC, proving that the M4 Aqua is squarely aimed at a mid-range market. It is definitely not the fastest chip around, but it is quite snappy and makes for a fluent experience. The bundled Adreno 405 GPU is also quite capable of handling most current Android games, even the more graphically-intense ones. RAM is set at 2GB, which is perfectly enough for most everyday tasks, but the built-in memory might be an irritation. The M4 Aqua comes with 8GB of memory out of which only about 5GB are user-accessible, at best. This means storage will get filled-up quickly. Thankfully, Sony has thrown in a MIcroSD card slot, but there is still a high probability that the phone will get easily cluttered.
Sony has also made some equally creative choices with the camera setup on the M4 Aqua. The shooter features a 13MP Exmor RS sensor and on the front, there is a 5MP one. Both cameras have all of Sony's software advantages at their disposal, like superior auto, for example. The setup might not be up to par with current flagships, but it does have all the potential to outshine a lot of the mid-range crowd, perhaps even the Xperia Z3. But, we can merely speculate, until we put the camera through our rigorous testing procedure.
On the software side, we were pleasantly surprised to see that the M4 Aqua runs on Android 5.0 Lollipop. We know this should be a given on any modern device, but Sony does have a reputation of shying away from up to date software, especially for devices outside the premium Z-series. As far as apps and functionality goes, in typical Xperia fashion the M4 Aqua is packed with a lot of fun and useful features. We did, however, notice a few ones missing, like Remote Play and high-res audio, but, perhaps, both will come with a later software update.
It is no mystery, that the M4 Aqua is cheaper than the Xperia Z3, but, what is truly interesting is that it is also cheaper than the Xperia Z3 Compact. So, the success of the newer model might, in fact boil down to how it sizes up against the quite-popular Z3 Compact. Stay tuned for a full, in-depth review of the M4 Aqua, in which we intend to answer just that.