A South Korean version of the water-resistant Samsung Galaxy S4 Active called SHV-E470S popped up in GFXBench scores and wouldn't you know it, it packs a Snapdragon 800 chipset and not the Snapdragon 600 that the international version has.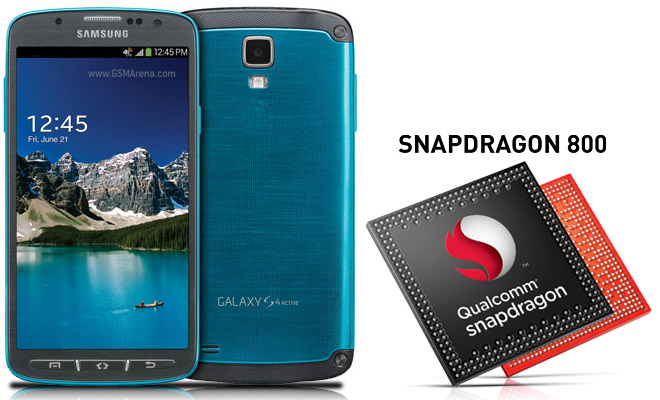 At this point this should come as no surprise – we saw a Snapdragon 800-powered Galaxy S4, a Snapdragon 600 Note II, dual-mode S4 and S4 mini, Samsung is trying out all the combinations.
The benchmark detected a quad-core processor at 2.3GHz with Adreno 330 GPU in an MSM8974 chipset, a.k.a. Snapdragon 800. The score for the off-screen test is 25.9fps, when the Snapdragon 600 version did 16fps, the I9505 Galaxy S4 did 17.1fps and the Snapdragon 800-packing Sony Xperia Z Ultra does 23.1fps.
GLBenchmark 2.7 T-Rex (1080p off-screen)
Higher is better
Samsung Galaxy S4 Active (S800)




25.9

Sony Xperia Z Ultra




23.1

Samsung Galaxy S4 (S600)




17.1

Samsung Galaxy S4 (Octa)




17.1

Apple iPad 4




16.8

Samsung Galaxy S4 Active (S600)




16

Google Nexus 10




13.9

LG Optimus G




13.9

Sony Xperia Z




13.5

Sony Xperia Tablet Z




13

Sony Xperia ZL




12.8

Samsung Galaxy Note II




4.9
The SHV-E470S Galaxy S5 Active also probably supports LTE-Advanced, same as the SHV-E330S Galaxy S4 LTE-A.
Note that those are phones for South Korea and there are rumors of an I9506 Galaxy S4, which will bring Snapdragon 800 power internationally. Fingers crossed that the new Galaxy S4 Active will have an international version too.