As some of you surely remember, Samsung Electronics and LG Electronics have been involved in a rather colorful dispute over alleged vandalism. The story involved LG appliances chief Jo Seong-jin, who was accused of orchestrating the deliberate damaging of several high-end Samsung washing machines by LG employees at two retail stores in Germany last September.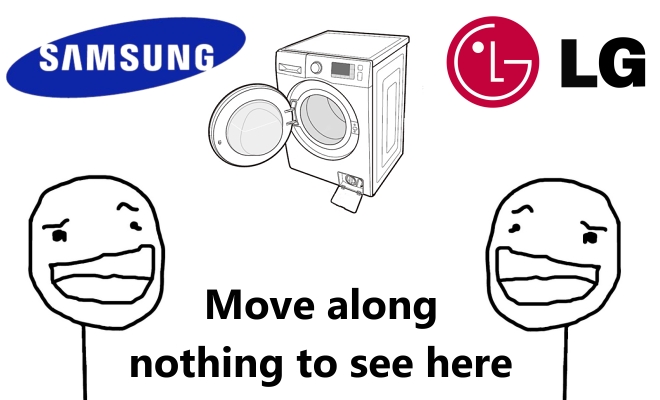 The allegation turned into quite a public spectacle after Samsung filed a formal complaint, seeking criminal punishment for the deed. The whole saga really got out of hand when LG published a surveillance video of the incident, which Samsung branded as misleading and heavily-edited.
The reality is, that the dispute has really been rather detrimental for both rival Korean companies, especially in terms of public image. The bickering has been generating a tidal wave of bad publicity and mockery, which has apparently forced both parties to finally settle the problem in a more civilized manner.
"Both sides have agreed to avoid legal action and resolve any future conflicts or disputes through dialogue and mutual agreement", as the official statement goes.
So a lesson has definitely been learned here. We can expect that in the future such cases will be dealt with swiftly, without making too much of a fuss. And if you think Samsung was the bigger person in all of this, walking away from the fight, there is also the matter of another accusation from February. It involved charges from LG against Samsung, for allegedly stealing OLED panel technology. The aforementioned settlement extends to this case, as well, so it seems, it is quite beneficial for both parties.