Well, it was only going to be a matter of time before the inquisitive minds at iFixit or Chipworks got their hands on the new Galaxy S III and skillfully take it apart bit by bit and so finally they have.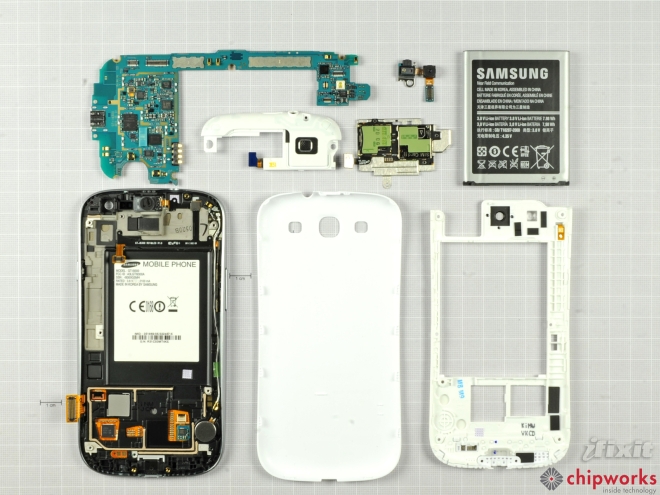 This has lead to some rather interesting discoveries as mentioned below.
The battery has a built-in NFC chip, just like the one on the Galaxy Nexus. If you are getting a replacement, make sure it is the same model with the NFC chip built-in.
The audio processor on the Galaxy S III is a Wolfson WM1811, unlike the infamous Yamaha YMU823 on the Galaxy S II and the popular Wolfson WM8994 on the Galaxy S.
The front protective glass has been fused to the display, which can lead to significant costs in case it cracks.
The 8 megapixel camera on the back uses basically the same Sony BSI sensor used on the iPhone 4S. As such, any difference in image quality would be due to the use of different lens system and differently tuned image processing. You can use our Photo Comparison Tool to compare the image quality between the two smartphones.
That's it for now. This teardown was performed by Chipworks and we may get some more details and pictures when iFixit does one of their own. You can find some more information from the source link below.