NVIDIA's powerful new tablet, the Shield, is now out. It was made official exactly one week ago, after many leaks about it had popped up in the past.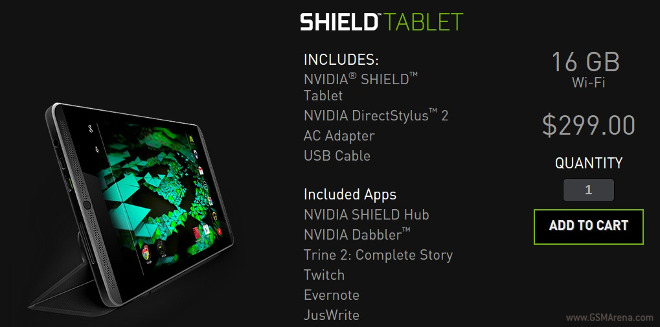 The NVIDIA Shield tablet can be yours for $299, directly from the company's own online store for the US. This price, however, doesn't include the Shield Wireless Controller, the Wi-Fi-based gamepad that's been prominently featured alongside the tablet in promo materials.
If you want to pick up the Shield Wireless Controller, you need to shell out an additional $59.99. It comes with console-grade controls, good performance, a stereo headset jack, a microphone, and a touchpad.
What is included in your purchase of the Shield Tablet is the NVIDIA DirectStylus 2 – a passive stylus that is GPU-accelerated and can help you draw cool things. NVIDIA is also selling a tablet cover for the Shield, which sports polyurethane design and microfiber inner lining. This retails for $39.99.
The tablet model that's currently available comes with 16GB of built-in storage and Wi-Fi. An LTE-capable SKU with 32GB of storage is expected to arrive at some later point in time for $399. The NVIDIA Shield Tablet has an 8-inch 1920×1200 touchscreen and is powered by the company's own Tegra K1 chipset, with a 2.2 GHz quad-core Cortex-A15 CPU along with a 192-core Kepler GPU.
It also boasts 2GB of RAM, a pair of 5MP cameras (one on the front, one on the back), and a microSD card slot. The NVIDIA Shield Tablet runs Android 4.4 KitKat.