NVIDIA's Shield portables can stream a game from your computer, but they will soon gain the ability to stream from NVIDIA's computers – support for the Grid gaming service will arrive as part of the Lollipop upgrade. The service runs the game in the cloud and streams 720p@60fps footage to the Shield, with very low latency (so the company promises).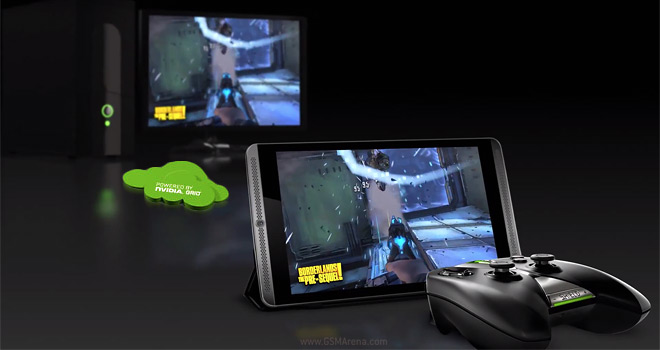 "State-of-the-art NVIDIA GPU servers" will handle the rendering on the cloud part.
Locally you'll need to use the hardware game controller (Grid will run full-fledged PC games and they don't work on a touchscreen). That's not needed for the regular Shield, which has a controller built it.
The requirement for your Internet connection are fairly modest – 6.5Mbps at minimum, 10Mbps is ideal. Multiplayer will not be available at first, but NVIDIA plans to allow additional controllers to be connected to the Shield to support multiple players in the same room. You need the Grid app from the Play Store.
At launch there will be 20 AAA gaming titles worth $400, those include Batman: Arkham City, Borderlands 2 and Psychonauts, with a new game added each week. The service will launch in the US first (on November 18), then in the UK (December 2) and the rest of Europe and should reach Asia next year.
In terms of pricing, Grid will be free until June 30 2015, it's not clear how much it will cost after that.
While you wait for NVIDIA Grid to launch in your region you can try the Valve pack for Shield – Half-Life 2: Episode One and Portal will be included for free on 32GB/LTE Shield Tablets.