February 24 – what an eventful day! First we got a bunch of Nokia phones running on Android Jelly Bean, then Sony unleashed the next-generation flagship – Xperia Z2. Later HTC premiered two interesting Desire smartphones and finally, Samsung outed the Galaxy S5.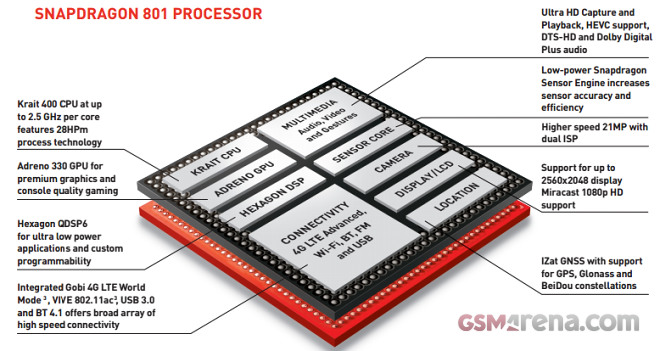 Yesterday was also the day Qualcomm announced the new Snapdragon 801 chipset. And then came the confusion. What is MSM8974AB, what is MSM8974AC, which phone runs on Snapdragon 801, is it Xperia Z2, is it Galaxy S5? Let's clear all this mess up.
The Qualcomm MSM8974 is one of the original Snapdragon 800 SoC (system-on-chip). It has four Krait 400 cores that can be clocked up to 2.3 GHz, Adreno 330 GPU with a clock of 450MHz and LPDDR3-1600 memory controller. This is the hardware you'll find inside the LG G2, Sony Xperia Z Ultra, Samsung Galaxy Note 3, Sony Xperia Z1, Nexus 5, and Nokia Lumia 1520 among other popular S800-powered smartphones. So far, so good.
The Qualcomm MSM8974AB s a second generation Snapdragon 800 SoC. It supports four Krait 400 cores up to 2.3 GHz (same as before), Adreno 330 GPU up to 550 MHz (that's 100 MHz higher than the original MSM8974 specs), and a faster LPDDR3-1866 memory controller. So, this newer AB revision of the SoC offers faster GPU and memory speeds and bandwidth. MSM8974AB is powering the Sony Xperia Z2, Sony Xperia Z2 Tablet and is rumored to tick inside the HTC One 2014 (TBA in March).
Finally, comes the Qualcomm MSM8974AC SoC, the third generation S800 SoC. It allows for even higher CPU clock – the four Krait 400 cores are now able to operate up to 2.5 GHz, the Adreno 330 GPU gets an even higher clock – 578 MHz, while the memory controller is the same at LPDDR3-1866. It is the fastest commercially available Snapdragon chipset on the market and can be found inside the recently announced Samsung Galaxy S5.
MSM 8974
MSM 8974 AB
MSM 8974 AC
CPU
4x Krait 400
up to 2.3GHz
4x Krait 400
2.3GHz
4x Krait 400
up to 2.5GHz
GPU
Adreno 330
up to 450MHz
Adreno 330
up to 550MHz
Adreno 330
up to 578MHz
RAM
LP DDR3 – 1600MHz
LP DDR3 – 1866MHz
LP DDR3 – 1866MHz
Now one last question remains, which one of these is Snapdragon 800 and which one is Snapdragon 801?
Qualcomm lists the original MSM8974 as the Snapdragon 800 and there are no public company documents detailing the correct marketing name for the second generation MSM8974AB chips. The third-generation MSM8974AC however is explicitly mentioned as Snapdragon 801. This means it's a Snapdragon 801 that is powering the Samsung Galaxy S5 and leaves us kinda unsure how exactly should we call the Xperia Z2 chipset.
All of Sony's latest white papers and product pages (of Xperia Z2 and Xperia Z2 Tablet) call the MSM8974AB a Snapdragon 801 chipset. It certainly serves the purpose of differentiating this faster chipset from the run-of-the-mill Snapdragon 800′s. After all, it offers 22% faster GPU performance and 16.5% higher memory bandwidth.
Now you all know the difference between the three models. Galaxy S5 is surely running on the latest and greatest commercially available Snapdragon chipset, followed by the Sony Xperia Z2, whatever the correct name of its SoC turns out to be. We'll be calling both AB and AC Snapdragon 801 until Qualcomm says otherwise.
It's good to know that an even better Snapdragon 805 chipset will enter mass production this quarter. It will have four Krait 450 cores supporting up to 2.7GHz clock speed and a brand new Adreno 420 GPU. But for now, the Galaxy S5 has the best available Qualcomm SoC.