Oh dear! They say competition is the mother of progress but this is latest childish outbursts are mostly great for a laugh or inspiring fanboy wars depending on how seriously you take things.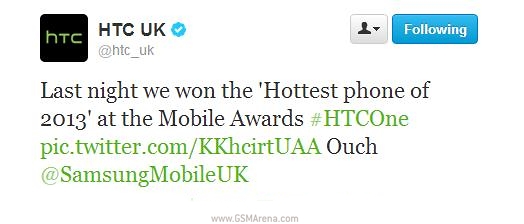 After the Mobile Awards in the UK event concluded HTC's UK decided to poke its rival Samsung on Twitter after winning Hottest phone of 2013 with the HTC One. After boasting about its victory the HTC UK Twitter account added an "Ouch @SamsungMobileUK", which spurred the events to follow.
Samsung, being the world-dominating mobile brand it is, decided to retaliate with the following tweet.
The guys behind HTC Twitter account weren't done though and launched another attack.
Interestingly LG decided to join the fun and did so in style.