MINIX, a reputable media center hardware manufacturer, has announced the latest addition to its device lineup. It comes in the form of the Minix Neo Z64 Mini PC. The name is more than fitting, as the device is truly small and will fit nicely in front of any TV and also packs quite a punch offering PC-grade performance.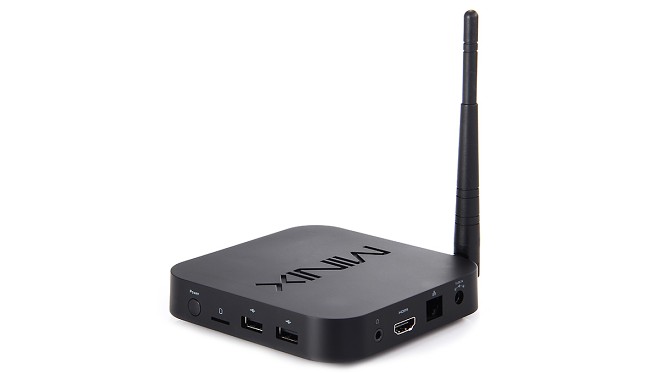 It is powered by an Intel Z3735F 64-bit processor with 2MB of cache and a Turbo clock of 1.83GHz. Tech-savy readers are sure to recognize the chip, as it is the same silicon that powers most of today's Windows-based tablets. That being said, the device will more than readily run Android as well, making it as universal as it gets in terms of media PCs.
Also under the hood of the Minix NEO Z64, there's 2GB DDR3L memory and 32GB of eMMC storage. This should be plenty for most multimedia purposes, but MINIX has also thrown in an SD card slot and two USB 2.0 for further extendability. Going around the small computer we also see a HDMI 1.4 for video output, 10/100 Mbits LAN, a headphone jack and a power DC IN on the rear. It supports Full HD output and playback and is also equipped with a 802.11n wireless card, hence the protruding antenna and Bluetooth 4.0.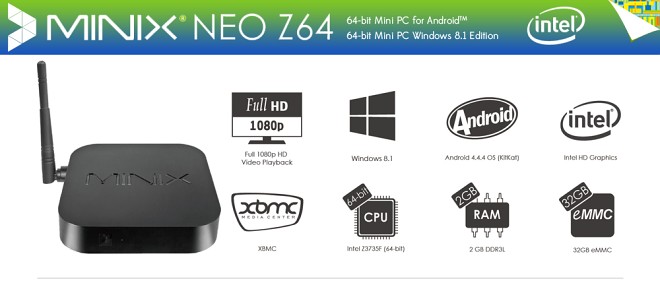 Geekbuying currently sells the MINIX NEO Z64 in two variants one with Android 4.4.4 preinstalled, while the other with Windows 8.1 for $144.90 and $174.90, respectively. Bear in mind that the latter does include an OEM license for Windows, which is exceptional at that price tag and both even include a remote control.


The MINIX NEO Z64 is a solid choice and will definitely handle most multimedia tasks you throw at it. While the hardware is nothing spectacular, the level of freedom in OS choice is impressive and the built-in Intel HD graphics chip is more than enough to power Android gaming and possibly even some casual PC titles. Whether it be next to a TV or as a bare-bone work PC solution the MINIX NEO Z64 is definitely worth checking out.