LG has definitely left its mark on the fairly new and still maturing smart wearable niche. The Korean tech giant is now on its third generation smartwatch and the whole wearable concept is really starting to take shape.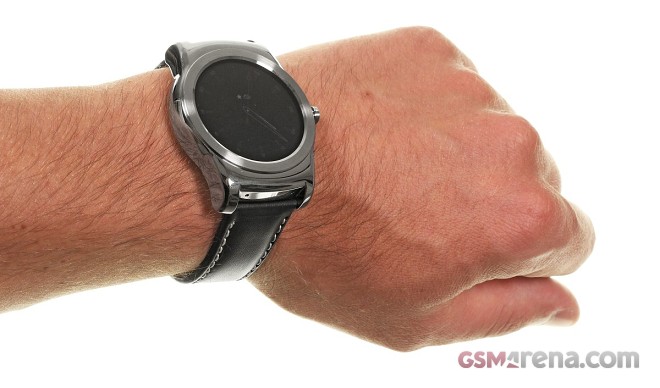 The LG Watch Urbane is a beautifully crafted gadget with a more sophisticated, even business-like demeanor. A single glance is enough to see that the Watch Urbane isn't a fitness tracker and is definitely not sporty in any way. On the contrary, it looks like a watch you would want to couple with a good suit and wear to corporate meetings, a more grown-up and serious toy, if you may.
But, the key thing here is that, no matter how classic and conservative a wearable is, it still can't escape its true nature, which, at the moment, is that of an odd gadget, you don't really need and still can't explain why you want so badly.
This slick white chrome exterior with a stitched leather strap, however, isn't for everybody. The shell of its predecessor – the LG G Watch R was quite low-key, whereas this one tends to really stick out. With a bulky body, measuring 45.5 x 52.2 x 10.9 mm and quite heavy at 66.5g grams, the watch doesn't really sit quite as well on the hand, regardless of gender.
LG really seems to be trying to broaden its market and the stainless steel body is also available in rose gold, in addition to the classic silver. It is also worth noting that the genuine leather strap is a standard 22mm one and thus easily changeable. So, perhaps, you could get a nice metal band that would be a better fit than the bundled genuine leather.
This, however, isn't really a new feature and was also true with the G Watch R. Come to think of it, when we put aside the obvious visual overhaul, the Watch Urbane is identical to its predecessor. It has the same 1.3-icnh P-OLED fully-circular screen and even the same resolution of 320 x 320 pixels and 245ppi. It is powered by the same hardware – a Qualcomm Snapdragon 400 (MSM8226), quad-core 1.2GHz Cortex-A7 CPU, 512MB RAM, 4GB internal storage (3 GB user available), all poweredby a 410 mAh battery. It also borrows its sensor set from the G Watch R, which include a PPG Heart rate sensor, 9-axis gyro, accelerometer, compass and barometer. The IP-67 certification is also carried over.
However, there are a few notable new features. For one, the wearable now has WiFi, much like its rival over at camp Samsung. This will surely be a new trend among Android Wear devices, as the new connectivity unlocks the ability for the watch to function a lot more independently from your smartphone. The Watch Urbane can now receive notifications and pull various content from the synched Android device even If it is not in Bluetooth range, over WiFi.
Speaking of new software tricks, the Watch Urbane definitely has a few. It is currently the only wearable officially running on Google's latest version of Android Wear – 5.1.1. This is both a curse and a blessing. There are a few new features, like an improved and more-logically organized app drawer, a few new gestures and a rather quirky, but quite fun emoji drawing function. But, on the flip side, there seem to be quite a few stability issues to iron out. This, however shouldn't discourage you from buying one, as we are sure any problems will be quickly fixed, as the Android Wear update is going to be seeded to other devices pretty soon.
And while we are on the subject, it is time to address the elephant in the room. The LG Watch Urbane is an exquisite wearable that takes almost everything that made the G Watch R so successful and packages it up in a brand new, shiny exterior. And while the appeal of the new design is very much a matter of taste, the price mark isn't really a matter of opinion.
The LG Watch Urbane is currently one of the priciest Android Wear devices on the market. It retails for about $349, which is about what the cheapest Apple Watch costs, but still a good $100 more than the G Watch R. This might prove to be more than enough to discourage prospective buyers, who are well-aware that they can basically pick up the same hardware for $100 less. This, logic, however, definitely doesn't apply to corporate markets and other social segment where the exterior is often all that really counts.
So, the future of the Watch Urbane might be determined by how well LG manages to pitch it on the right market and weather the classic design is stylish enough to appeal to the new prospective user base.